10 dark ride discoveries
Over this disappointingly long period of downtime I've undertaken a project to help out the Dark Ride Database with their expansion into Asia and the rest of the world. I'd often had dreams of one day creating some dark ride hunting tools to rival that of the current coaster sites that exist today and that form an essential part of any theme park trip planning but, as is inevitable with the internet, someone beat me to it.

The timing was right for all parties as, until the latest launch today, the DRDb had only gone as far as cataloguing Europe and the Americas, with plans to complete the rest of the globe by their 1 year anniversary on April 1st 2021. I reached out to the team and offered up my research services on all things Asian dark ride, largely spurred on by it being the part of the theme park world I feel most at home with. I believe I enjoyed the lengthy process far too much and am rather deflated now that the bulk of the work is over and done with.

I do hope that the 400+ listings I ended up documenting prove useful to as many trip planners as possible, though I have already established my own selfish gains from the experience – there were some fascinating finds that reignited my spark and desire to get creating future holiday itineraries for myself and eventually be out and about exploring these places again, a process that has of course suffered over the past year.

Here's a select few that really intrigued or surprised me and that I'm definitely planning to hit up in person as soon as it's practical to do so.
---
Voyages of Zheng He – Timeless China
Amongst the hardest hitting discoveries for me were the parks that weren't even on my radar and perhaps never would have been because they simply have no coasters. Having a rollercoaster isn't a be-all and end-all for any theme park of course and parks like Disney's Epcot, or Futuroscope and Vulcania over in France have, until recently anyway, proved that fact.

Back in 2014 OCT, the company behind the regions Happy Valley parks, began developing their own dark ride systems under the name OCT Vision, perhaps spurred on or inspired by local rivals Fantawild to deliver entire in-house attraction packages and even have the opportunity to sell some hardware on to other parks.

Timeless China in Beijing plays host to a whole range of these OCT dark ride products and it's this one in particular that has me fascinated as it appears to be their own version of the Jinshan Temple Showdown ride system (and subsequent show scene) from Fantawild, an attraction which is easily amongst the all time greats of the industry for me.
I'm itching to find out what the OCT attempt is like and to check out the others on offer here, some of which seem to have been prototypes for a number of their other attractions across China.
---
Legendary Dunhuang – Silk Road Dreamland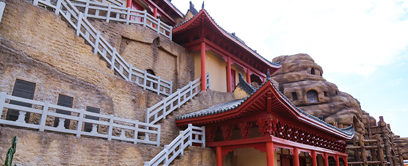 Talking of Fantawild, even after creating my own semi-comprehensive guide I'm still learning about what they have in store for me out there. I've tended to gloss over their parks with poor coaster lineups before now, knowing what I already know about how much they love to clone every attraction across the chain and assuming that there will be nothing else new on offer.

Up in the remote city of Jiayuguan there's a couple of Fantawild parks across town from each other which both perfectly fit the bill for uninviting rollercoasters (each having an SLC as the supposed star of the show). It is, for now at least, a bit of a dead end region for coaster lovers, 7 hours by high speed train from the nearest one of real interest. They do both however happen to house a unique dark ride each. The Adventure park has one by the name of Silk Road, no doubt covering the history and/or fantasy of this defining feature of the area.

From a Fantawild generational standpoint, Silk Road Dreamland should have the more exciting unique attraction though, in Legendary Dunhuang. As always they're pretty vague with the website description, but anything modern, different and Fantawild dark ride excites me hugely these days, the entrance is inspired by this sweet looking piece of ancient architecture and just the whole exoticism has me wanting to see it for myself as soon as possible.
---
Jurassic Island – Trans Studio Cibubur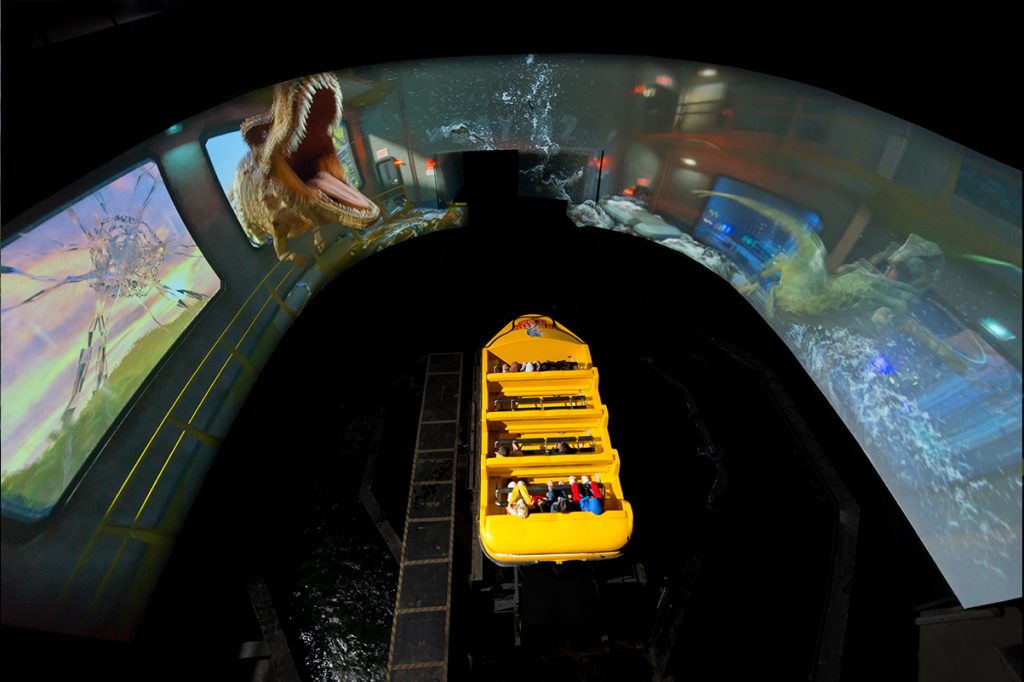 Over in Indonesia, it's the hardware that fascinates me most about this one. I'm yet to truly be enthralled by an Immersive tunnel experience, but I think that combining the technology with your classic dinosaur themed log flume has the potential to be particularly entertaining. Simworx, Interlink and Falcon's Creative Group have some solid attraction history behind them across the dark ride scene so I'd love to experience the result of this hybrid effort.
---
Dino Tour – China Dinosaur Park
More dinosaurs! Truth is I haven't fully figured out what this one is, but it looks about as ridiculously ambitious as the 4D coaster in the same park. I don't believe this attraction existed when I visited China Dinosaur Park last and if it did, I'm gutted to have missed it, as I already am about the half dark ride, half log flume that was skipped due to time constraints and/or weather.
All I can figure out for now is studio jeep tour meets immersive tunnel meets 'indoor pedestrian experience' and I sincerely hope it lives up to the concept art.
---
Investiture of Gods – Oriental Movie Metropolis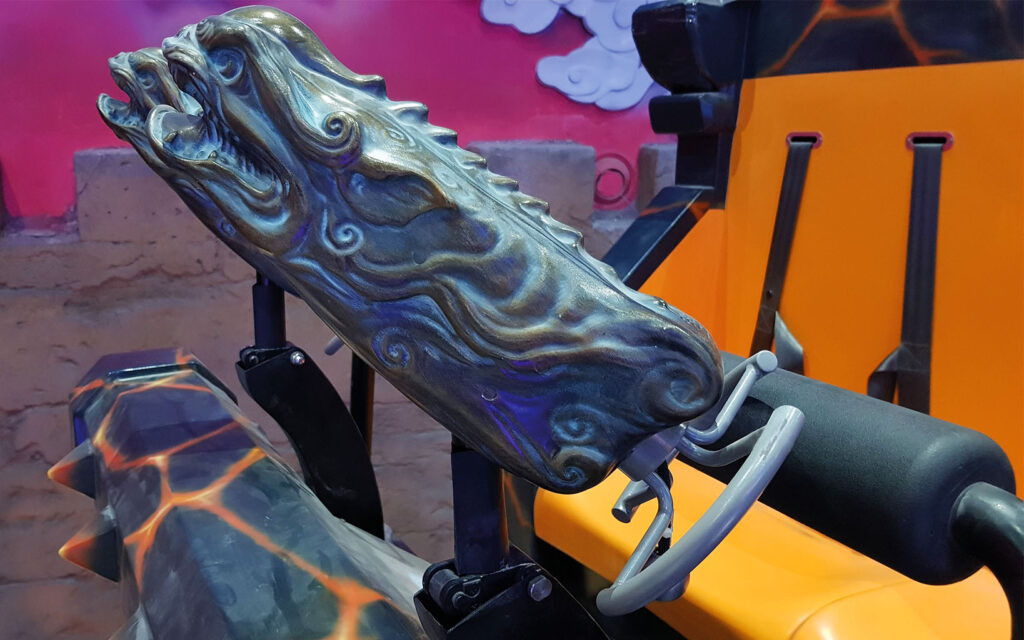 Coaster time – in this case a custom, heavily themed, indoor Golden Horse with integrated interactivity (also known as guns) for a shooting dark ride like very little else out there. We had something akin to this idea years ago at Fuji-Q that I sadly never got the chance to try, but this one looks like a significant step up, in terms of visual aesthetic at the very least.
Oriental Movie Metropolis is located in Qingdao, China and I can't quite yet fathom the exact setup – there's ties to a Wanda/Sunac mall park but this appears to be a movie studio based attraction in its own right, for which I haven't yet found a website. Massively intriguing is an understatement.
---
Dark Ride – Petrosains, The Discovery Centre
Moving away from parks completely for a minute, a science and techonology museum found within the Petronas Twin Towers in Kuala Lumpur, Malaysia happens to utilise a themed dark ride experience for both entry into and exit from the overall attraction. Having been to the towers myself and never known that this was a thing, it's another perfect example of potential hidden gems that can slip right by fans, unnoticed, if you don't know where to look for such things.
---
Gems Gallery The Ride – Gems Gallery Phuket / Gems Discovery – Gems Gallery Pattaya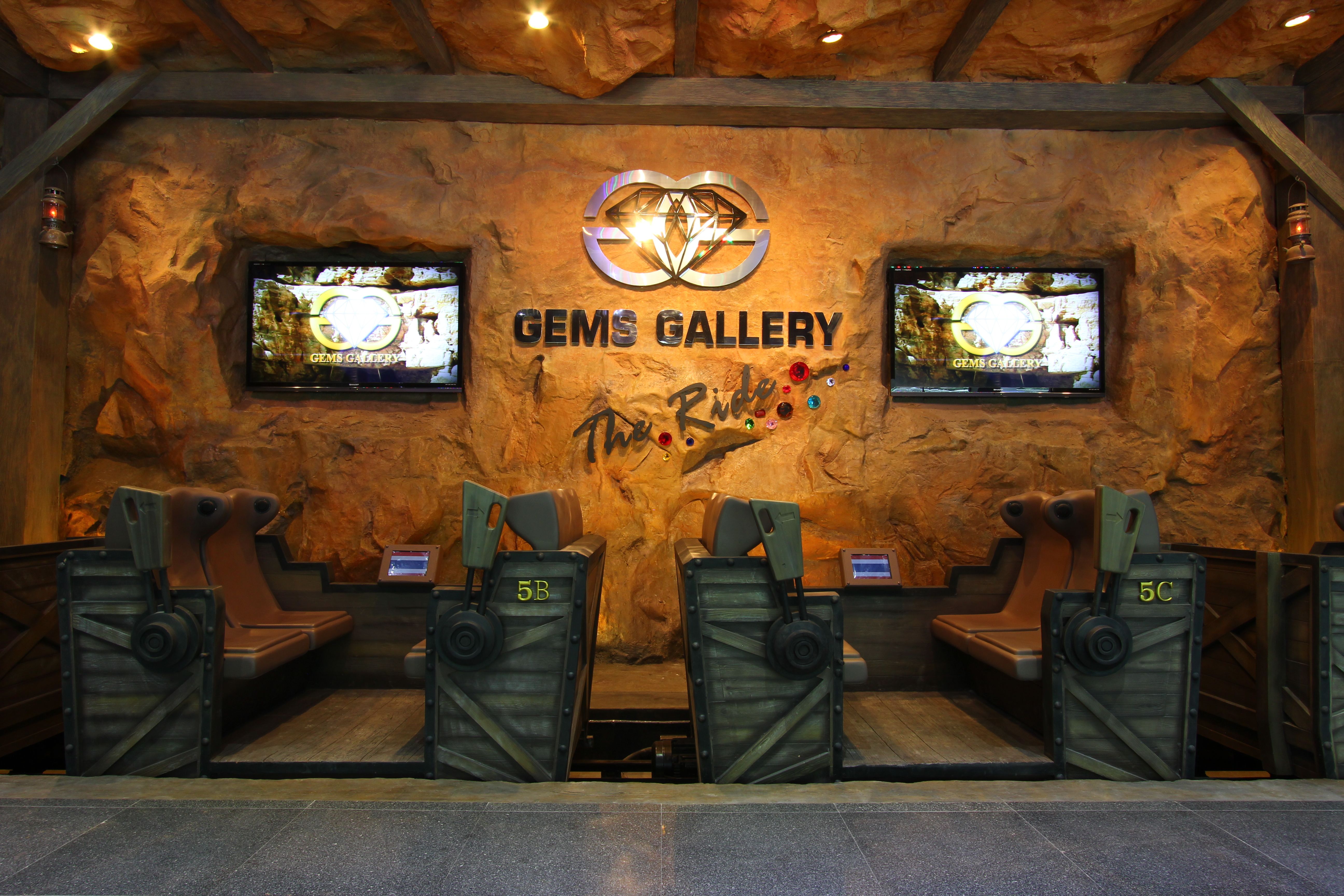 On the subject of gems, these ones are even more of a wildcard. Gems Gallery is a jewellery showroom at heart with branches found in major cities throughout Thailand. As well as factory tours, aquariums, bars and restaurants to entertain potential customers, two of their four locations contain a dark ride (themed to gems of course) for good measure – certainly not something I expected to find when I embarked on this adventure.
---
Robot Factory – Gyeongnam Mason Robotland
A Korean robot factory with it's own outdoor theme park looks interesting enough by itself, but there's some even more weird and wonderful activities going on indoors. Choreographed dancing robot arms and unnerving humanoid replications aside, Robot Land plays host to a dark ride system that takes you on a factory tour to watch robots making robots. Sounds like the future to me.
---
Zheng He Treasure Ship – Changying Wonderland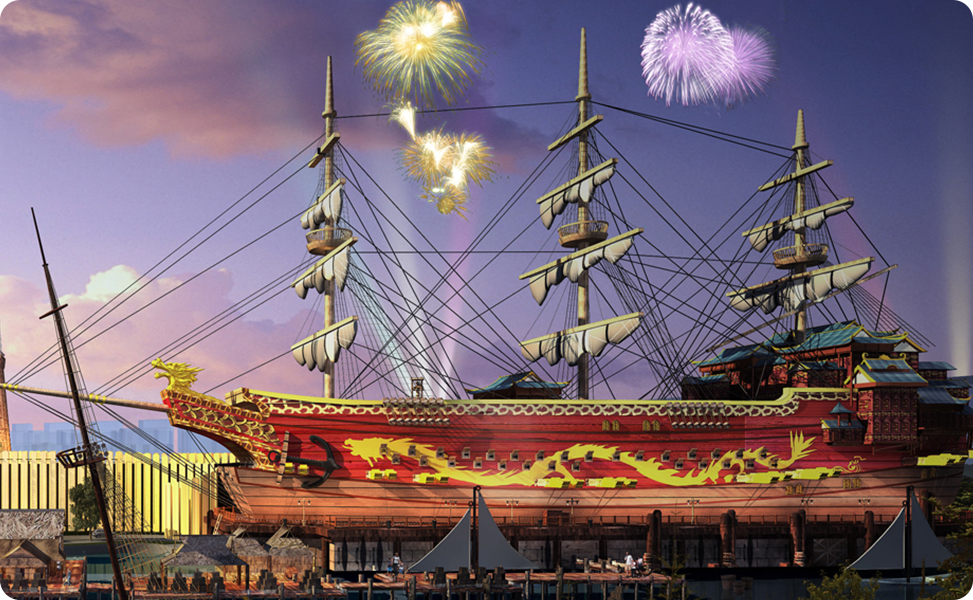 Alright, one more China park. With nothing more than a couple of family coasters to it's name, this one had never jumped out at me amongst the overwhelming onslaught of Chinese theme park construction. I've now learnt to never underestimate these movie studio parks, for their dark ride game (and overall scenery) can be serious as anything. As with Immersive Tunnels, I'm yet to be blown away by a Flying Theatre experience but I believe this mainly stems from almost all of them being a general touristy sightseeing showcase of local landscapes and landmarks as opposed to existing with their own narrative or story telling for extra emotional impact.
There's two of them here and it's our old pal Zheng He and his treasure ship again that interests me the most – they can't both have the same overarching theme, surely, and the building exterior alone looks simply breathtaking.
---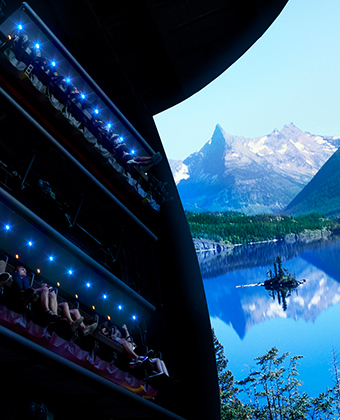 And so he picks another Flying Theatre to finish with. It's not so much the attraction itself here that caught my eye but the fact that it's located at the R&D centre of manufacturer Brogent Technologies in Taiwan, so it comes with the extra bonus of learning about the hardware in an exhibition before and/or after the ride experience.
Of course I'm going to be interested in that as well – this is obviously fast becoming my next greatest obsession.