Germany + Denmark 04/16 – Hansa Park
The following morning found us at Germany's only theme park by the sea. Coming from a nation with a ton of coastline, much of it not very good, I hadn't really considered how much this country was short of beaches per capita. I'd trade it all for what they have instead though:

Day 3 – Hansa Park
First impressions – gorgeous. That ticket desk can take my money any day.
And what an entrance too. Clearly they think about image and upkeep here.
Due to some staggered opening times, the only rides running first thing in the morning were these two.
The pair make for a pleasant start to the day. The Schwarzkopf looper is reasonably forceful and fun, enhanced by old school lap bars in an inversion – the two seldom met in the past. To add to the charm, there's a speedometer in the station to tell you how fast the last lap was – can you beat it?
You also get eaten by a fish at the end.
The highlight of the two attractions is the interaction though. If you're lucky enough to get both trains passing through the loop at the same time (and they do actually try and make this happen), complete with excitable riders, you're in for a real treat. I love moments like this. How to make a Vekoma junior special.
So I already liked the place and I hadn't even begin to consider the absurdity that was waiting for me around the corner. How is this a thing again?
Kärnan is a very special rollercoaster and I had a very special experience on my first ever lap – an empty train to myself. You can get a full taste of what I went through in a review here, but to summarise – I love this ride.
It's completely one of a kind in both theme and ride experience, it's ridiculously intense and it hurts my legs.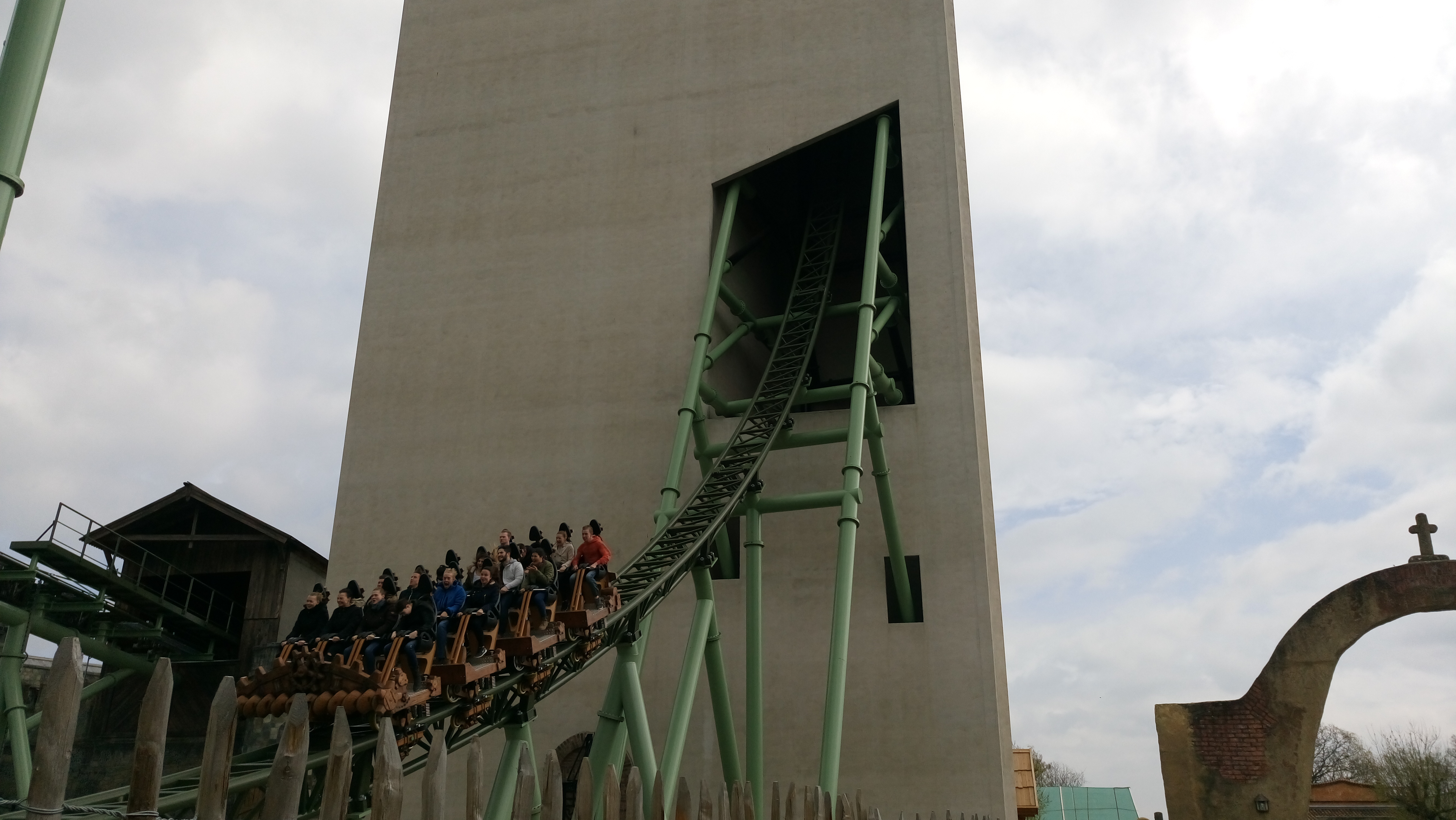 The staff member at the entrance was impressed with my stamina as I limped round for countless laps during the day, except they weren't countless – he was adding up for me each time with a cheery grin on his face. Proud of what he was representing, as he damn well should be.
Oh how I wish I could say any of the above for Kärnan's predecessor. I really wanted to like this attraction but the hardware is just so shoddy. It does have another banging soundtrack – the highlight being 30 seconds of a Russian man singing the word Novgorod repeatedly, which is actually built into the awesome first dark ride section of the layout.

The Gerstlauer Eurofighter car, with it's horrible restraints and clunky movements, drops awkwardly into the dark, pitching you forward in your seat before even more awkwardly snapping your head back again as you hit a rolling launch. It's really powerful, but it's just executed all wrong and ends up as something to endure, even more so when it ends with a sharp right hand snap of a corner.
A single moment of strong airtime follows over an impressive hill but, of course, the restraints just dig into your shoulders at this point and say "down boy, no fun for you."
The remainder of the layout is, to be frank, embarassing.
The car rattles around this extended corner sequence with absolutely no purpose before taking a slow inversion that drops your body onto each individual shoulder and leg, in turn, further increasing the discomfort and putting you out of kilter for what remains.
What remains is a now uncomfortable indoor vertical lift hill with somewhat cool projections and effects, though I've usually lost the plot by this stage. How is the potential energy of this lift hill expended? By a single drop and corner into the final brakes. They ran out of things to do.
It bothers me so much that it would have turned out better to just not try as hard – do the final dark ride sequence on a piece of flat track at the end.

That's enough negativity for this park, there's a laser show around the corner that played intense rave music in true German style and put me right back in good spirits. There was also a 4D theater with a POV film of an animated cat in a haunted house – it was decent and the seats dropped, better than Novgorod.
Have I mentioned it's a beautiful place.
Two more creds to get. The standard wild mouse almost lets the side down a bit by being so generic, but there's a band of animatronic hillbillies playing music to keep it entertaining.
And the other is the second Hansa & Gerstlauer masterpiece. Two laps of a cracking little family coaster with a lift hill intensely decorated by projections, smoke and plot and some great outdoor theming to dodge.
There's more to enjoy at Hansa – this little fairytale boat ride is cute as anything.
There's a giant bell (Die Glocke) that swings and has fire effects. What more could you ask for?
Me personally – a good sit down and some panoramic views.
In case you couldn't tell, I really liked this park. The visit presented me with a perfect blend of relaxed atmosphere and a strong lineup of attractions – a combination that is usually hard to come by due to inherent popularity. I get the impression that Hansa Park really care about what they're doing and I can't state enough how important I think that is for this industry.
Couldn't have put it better myself.

Day 4