Cred Hunting 04/21 – Paultons Park
With UK parks finally back up and running last week it was inevitable that the cred hunting (and trip report!) drought had to be broken at last. This could well have involved a bite of a big apple, something dirty like the one now lurking in Gloucester on Coaster Count, but good old Paultons have been putting some huge effort in over the last year or more and it would be rude not to get started with something 'proper.'
Paultons Park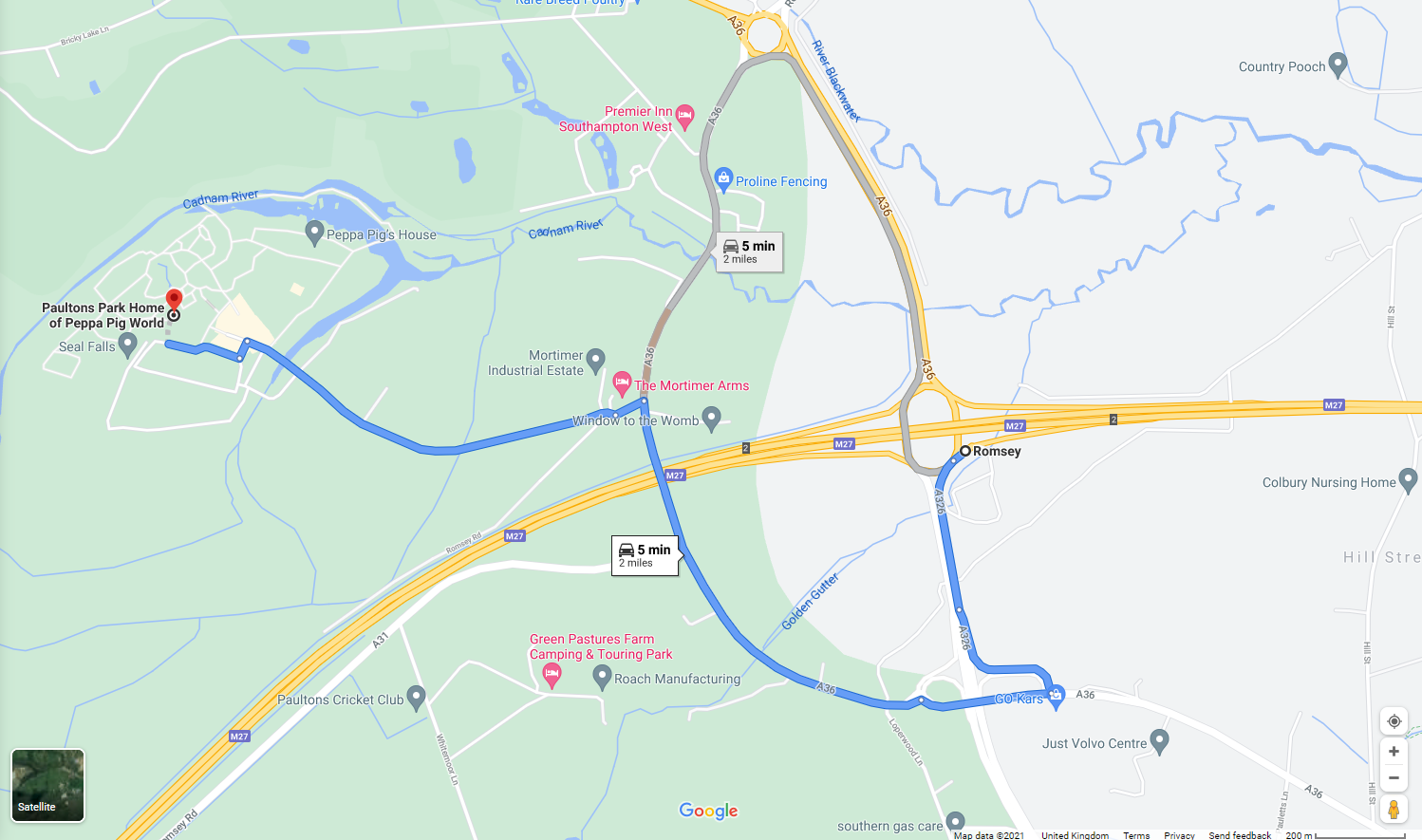 Just a heads up on the logistics for anyone planning to visit in the near future, on a day that ends up as busy or sold out on the pre-book system – the signposted route is struggling to cope with everyone arriving for opening, with quite severe queues backing up towards the M27 roundabout. It's basically a circle between the entrance to the Paultons driveway and the motorway however, so going against the flow (on Google's instruction – surprised no one else was using this) potentially saved us a good half hour of stewing in the car before getting parked up.
Figuring that half the world was still stuck queuing to get in we headed straight for the new area before there was too much of an opportunity for everyone else to do the same.
There's a fine looking sight to greet you upon arrival at Tornado Springs. I was particularly impressed with the way the ride supports frame the entrance to the area, the finer details around the footers and a certain buzz in the atmosphere that was already being generated by the overall spectacle.
The park seem to have developed a real knack over the past few years for integrating major attractions and pathways as one, which is always great to see.
So straight to it – #1 Storm Chaser. Because it's me, I couldn't get overly excited about this one, if at all, because, well, it's a clone. I knew what to expect and purely as a ride experience it delivered exactly that.
It's a solid layout. I like the teasing start, the build into the highlight which is the low, fast and tight helix and subsequent transitions that slither out of it.
If you're looking for thrills, this model is rather heavily dependent on getting a good spin through the fast section to really give you something to think about and that doesn't seem to happen a whole lot – we had one lap on this occasion that could well have been an axle mounted POV, with the front car following the layout almost dead straight throughout.
If you're looking for pure fun though, it's a winner. The indoor queueline for the ride was rather nice and a good step up for Paultons again. The theme tune got stuck in my head within a single ride cycle, which is always a sign of a quality package, and I was happily humming it regularly throughout the rest of the day.
I think it's mainly thanks to the aesthetic that I'd rank it in the middle of the Sierra Sidewinders – there's plenty more going on around when compared with the original, but the fog machines, indoorness and samples I got of spinningness keep the Spiderman version at the top for me.
Time for a token lap on the other coasters. I remember picking up an actual park map for Paultons in a service station as a child in the early 2000s (not just a leaflet, and not £3.50, those were the days) and obsessing over it, being particularly fascinated by the crude drawing of Stinger, thinking 'that's a cool and unique looking bug coaster, I hope I get to go there some day.' It currently lives on as a cat-bug hybrid and how naive I was when it came to the unique part.
Turns out Storm Chaser with it's two trains was coping far better than the other end of the park. The most arduous queue of the day ended up being Cobra which, due to distancing, started well outside of the entrance. I'll rarely say no to a Gerst Bob, but there are obviously finer examples out there. The step down in presentation in this area has become a little jarring although the ride still has that all-encompassing touch around the pathways, which is good for spectating some elusive British airtime.
My last visit in 2016 feels like a lifetime ago, when this dinosaur craze hit the country – I wonder if the American craze will catch on next and whether Paultons are now the trend setters? Velociraptor has held up well on looks, just not so well with me for the fact that these are everywhere now.
Speaking of looks, what's happened to the paint on Flight of the Pterosaur? Brown has faded to green in rather unexpected fashion, yet it still manages to pull it off rather elegantly. The final corner wasn't kicking as much ass as it did back around opening day – you could feel the sway of the shocks fighting the continuous push. Still love these trains and of course there's sooo many of them now.
At the risk of turning this into a history lesson, I remember when this one was a frog. Did I get two Zierer Tivoli firsts from this park? The dinosaur retrofit, theming package and paint job reminded me why Paulton's previous expansion was so impressive and important as well.
After some lunch we did the done thing and hit up some gentle rides.
Just like Dino Chase, Trekking Tractors has had an overhaul to integrate with the new surroundings, one that includes groundhogs and references to Tornados.
Oh, and a chicken getting excited about the construction of a new cred.
That wonderful framing is back again over in the queue for The Dinosaur Tour Co.. I do like it when things are well thought out.
The ride itself was misbehaving, cutting the Australian narrator short halfway through and looping the audio round twice. The indoor baby dino was still jiggling well, but the evil water spraying one was out of action.
Not being much of a flat ride connoisseur, figured we'd give Cyclonator a try to see what the fuss was about as it seemed the most popular thing all day. It worked out surprisingly well with what I thought would be a lack of heft. Takes a long time to get up to full swing, but once there it can give some unnerving dangling out of your seat moments with great interactive views. I guess Thorpe is technically redundant now.
And with that it was time to close out the day on Storm Chaser thanks to some on the spot extended opening hours. A token gesture really, an opportunity to goon out about where the transfer track was (under the station – great space saving) and avoid catching the eyes of the kids in the Wicker Man t-shirts.
On departure it initially seemed like the car park situation was going to repeat itself in reverse – desperately didn't want to sour this return to form with a Walibi Holland experience. Thankfully it all flows rather well in the outbound direction and the queues trundled along smoothly. All in all a pleasant day, I'm delighted with the park and what they've done for themselves.
It is what it is on a purely personal basis though – I think with every local investment there's an underlying wish that you'll get that next great thing to keep you actively wanting to come back for more. While Paultons stick to the formula of tried and tested coaster layouts it's not going to happen for misery guts me, but we can of course say that the future's looking bright.