Austria 09/17 – Wiener Prater
I 'just happened' to have an 8 hour stop in Vienna on the way out to China. Due to its location and lack of anything particularly interesting, Prater was never a place I wanted to make a dedicated trip to. This was the perfect opportunity to pop in and tick that box.
Day 0 – Wiener Prater
Walked straight on to the first ride of the day, some sketchy bloke with a sketchy mouse. Must have done at least 10 of these this year, unfortunately.
Got a decent spin, nothing life changing.
This was quite mighty in size for a Pinfari, but it didn't do much with it.
The operator was rude to some Chinese tourists that decided to join me for the lap. It's a sign of things to come.

Spent a good chunk of time after that wandering around and stumbling upon everything else, just to find it all closed. It was early in the day and the other rides don't seem to have the same hustle as the first 2, they're all run by invidual people rather than a collective so there's no common rules or structure to the place.
It's quite easy to accidentally walk out of the park and end up in some apparent slums in several directions.
That combined with several 'staff' that were mooching around their rides and being either less than useless or downright rude with my requests for information and the whole place really started to grind me down very quickly.
Next thing to become available. The operator was mean to me this time and impatiently pushed the restraint down as I was half in, trapping me in the middle of the 2 seats. Physics dictates that the middle is not a good place to be seated when these rides hit corners at high speeds, resulting in an awful ride.
I'd been told to go away earlier as he was too busy sweeping the floor, but now the man was sitting in his ticket window. He followed me up the stairs to run the ride, then disappeared as soon as it dispatched, leaving it unattended. I want to say that's cool, but it didn't feel like it in this instance.

Was reasonably interested in trying this Gerstlauer spinner. The weird 'dark ride' section full of mirrors and then "OMG! elevator lift" got me a little more interested. Then it did absolutely nothing through the main layout. I'm having more fun on my spinny chair while writing this than it is possible to have on this ride.
This powered coaster was the best thing so far, even if just for the name. Starting off backwards for half the layout caught me off guard, then it turns into quite a violent little thing, particularly in that tunnel.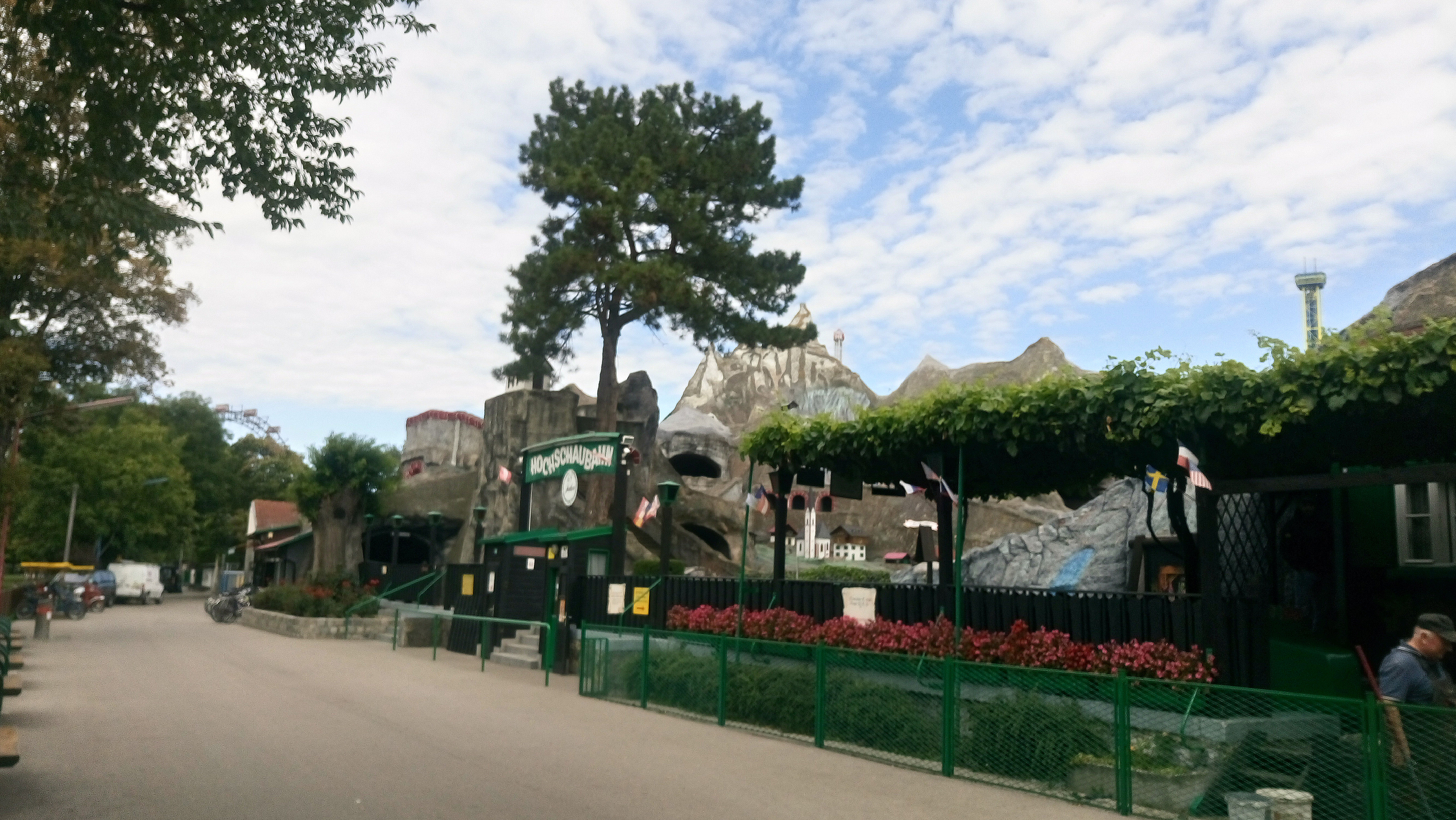 This brakeman woodie was a pathetic excuse for a ride. I didn't work where out the brakeman was going to sit as they were so rude and it was such an awkward experience to even present yourself as a customer. I ended up with the miserable bloke breathing down my neck and regretting his life throughout the ride.
Why are these things allowed to exist alongside the mighty Tivoli?

I'm losing count of the crap now. There's a Maurer spinner called #7 Insider, another indoor attraction. Only remember powering through a mirror maze and some lasers to get on an uneventful disco ride. Assume it's a standard model by how much I didn't enjoy it.

At last, a ride that brought a smile to my face.
Quite a ridiculous little thing, a rare custom Vekoma. The positive forces it produces are so sustained it was taking the air from my lungs.
The only coaster I was tempted to reride, but thought it was probably better leaving it with that single memory. Easily the highlight of the park.

Only a few things left to do, various walk-bys had taught me that the Boomerang was still dormant. Decided to get the Zamperla Volare out of the way.
Had a ton of room behind me on this ride, which you experience lying on your stomach. I seem to remember getting reasonably clamped by the back restraint in the past so it took me a little while to work out that some more tactical endurance was required in the inversions this time to stop me flopping backwards and causing injury.
Still don't get the hate for these rides, they're a very long way from the worst thing ever. Knowing I'll have to ride more doesn't concern or offend me.

Went for some food to kill time, Boomerang still spiting. It's sad to think (considering how common and bad they are) that it was one of the main things I wanted to do in this park and that missing it would even bother me.

Did the non-fancy ferris wheel to kill some more time, my logic was that it didn't have windows and would provide better pictures.
That and you get to at least look at the old timey one.
Saw the boomerang testing while I was on the wheel, so headed straight back over there.
After asking a few people in the area when it was going to open and either getting grunts or a simple expression that said 'get lost' as a response, I sat on a bench for an hour.
Eventually an old man and woman rocked up on a bike and told me 20 minutes. Cheers.
This version is special in that it has strange lap bars (a slab of flat metal across your stomach) rather than over the shoulder restraints. Restraints make such a huge difference to ride experience and this is another great example. It gives the top half of your body the freedom to move around a bit and not have to brace for ear impact. The track was unusually smooth too and I actually felt something other than survival in the inversions. Makes me wonder if these things weren't so scummy throughout the industry and this was the only one, would it be considered a good ride?
Probably not.

Having earlier written off another kiddie coaster as a no, unless they let me ride the cars as rollerskates (it's just that small), there was one more thing on the list.
(The yellow track on the right. I just felt more comfortable taking a picture of the fountain).
I'd been bluntly told to go away earlier as they were too busy counting money to take any more, but it was now delighting a couple of kids. I waited for my turn and got 9 too many laps.

I wasn't taken with this place at all. The staff were beyond rude, none of the rides are very good and overall it just felt like a chore. I'm very glad I did it as a layover, paying for flights specifically to come here would have been an insult.
The pricing structure of this park makes it quite an expensive day out if you want to do a reasonable amount of rides. The total cost of a single ride on each of the coasters and the cheaper ferris wheel came to 50 Euros, which is significantly higher than admission to the majority of actual theme parks, at which you'll likely have a much better day out and be able to ride as much as you want.

Mission complete. Now bring on the good stuff.

Day 1