50 years of coasters – 2003
I would go straight to the honourable mentions again but… there don't appear to be any. 2003 seems to be a down year for output after that Millennium boom and there's simply nothing I can see that I have both ridden and isn't in the list below that deserves any particular nod. Are we feeling the loss of the likes of Arrow, Togo and CCI already? Who will step into their shoes, or at least the shadow of the Swiss?
---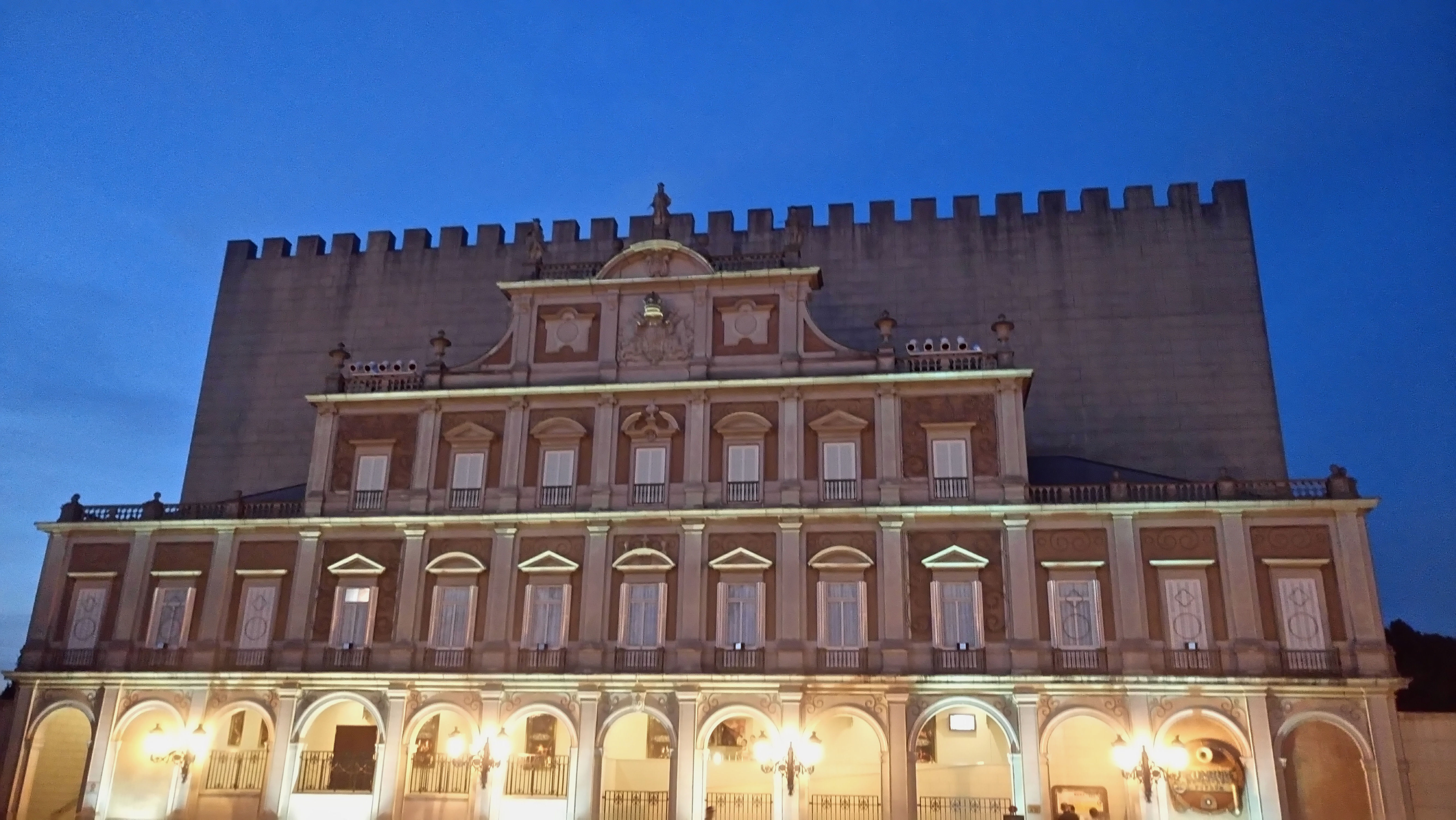 Well Japan have still got Sansei Yusoki on their side, just a tiny bit. Not the most prolific of manufacturers, we last saw them feature 12 years ago and they've only built about 20 coasters in total over a span of 50 years! I've just noticed that 2003 isn't even confirmed here as the official opening date, but we'll roll with the entry for now as it would only otherwise end up being something the same as the one below.
What makes this coaster entertaining, aside from the name, is the more modern steampunk rebrand with screens and effects in a show section which enhance a fairly unremarkable (yet unnecessarily shoulder restrainted) indoor ride. Not that that would have helped in ~2003, though I tend to give bonus points to any old ride in a building anyway.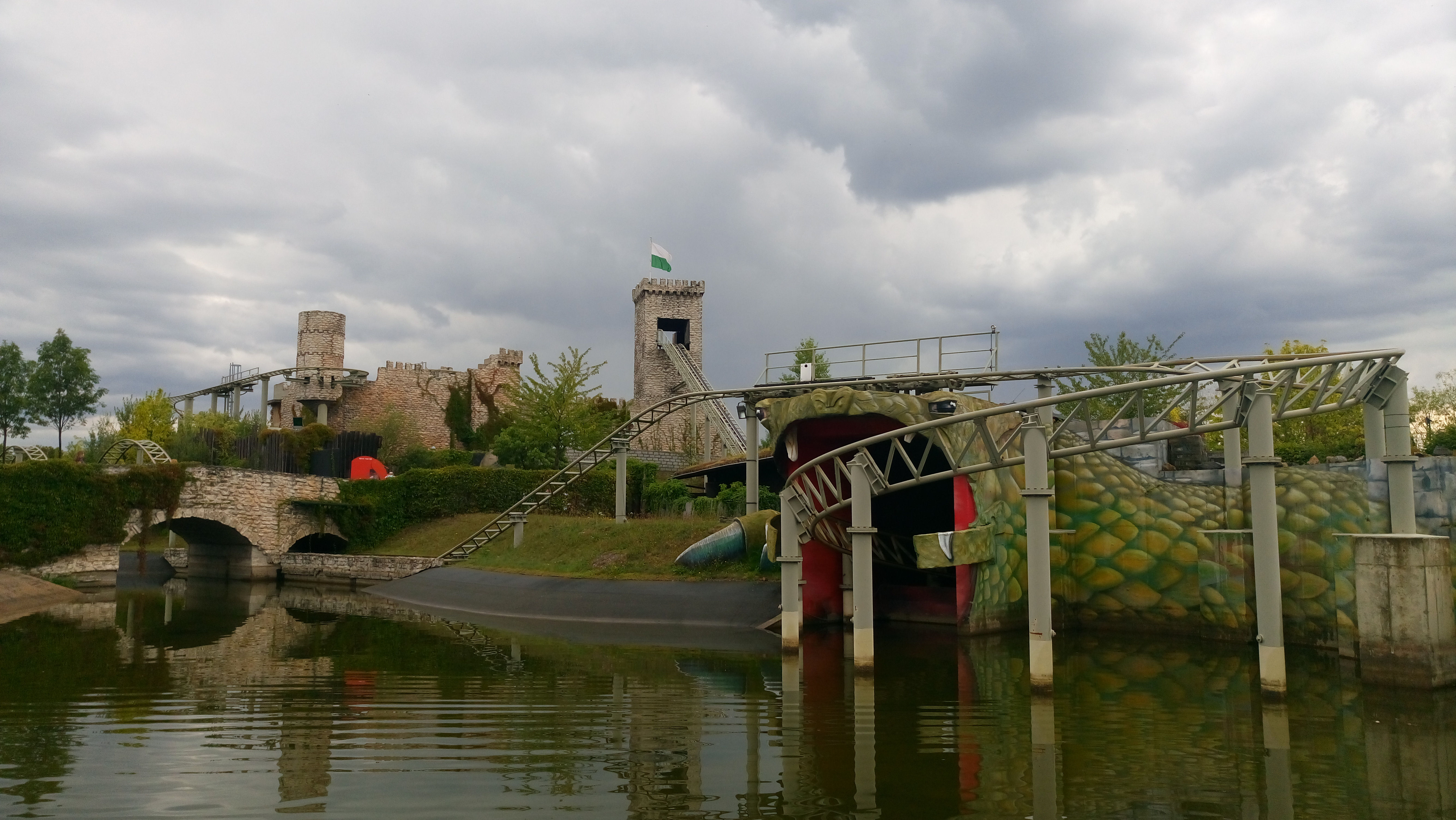 Apparently this Gerstlauer Bobsled is custom, though it looks and feels awfully familiar. This was one of two of the model to open this year, with popularity seeming to start to pick up since the 1998 debut of the company and ride type. Although the counterpart has some impressive interaction with other coasters, Drachenritt is nicely decorated with this castle theme, watery setting and bonus helix inside a snake. Can't go wrong with that.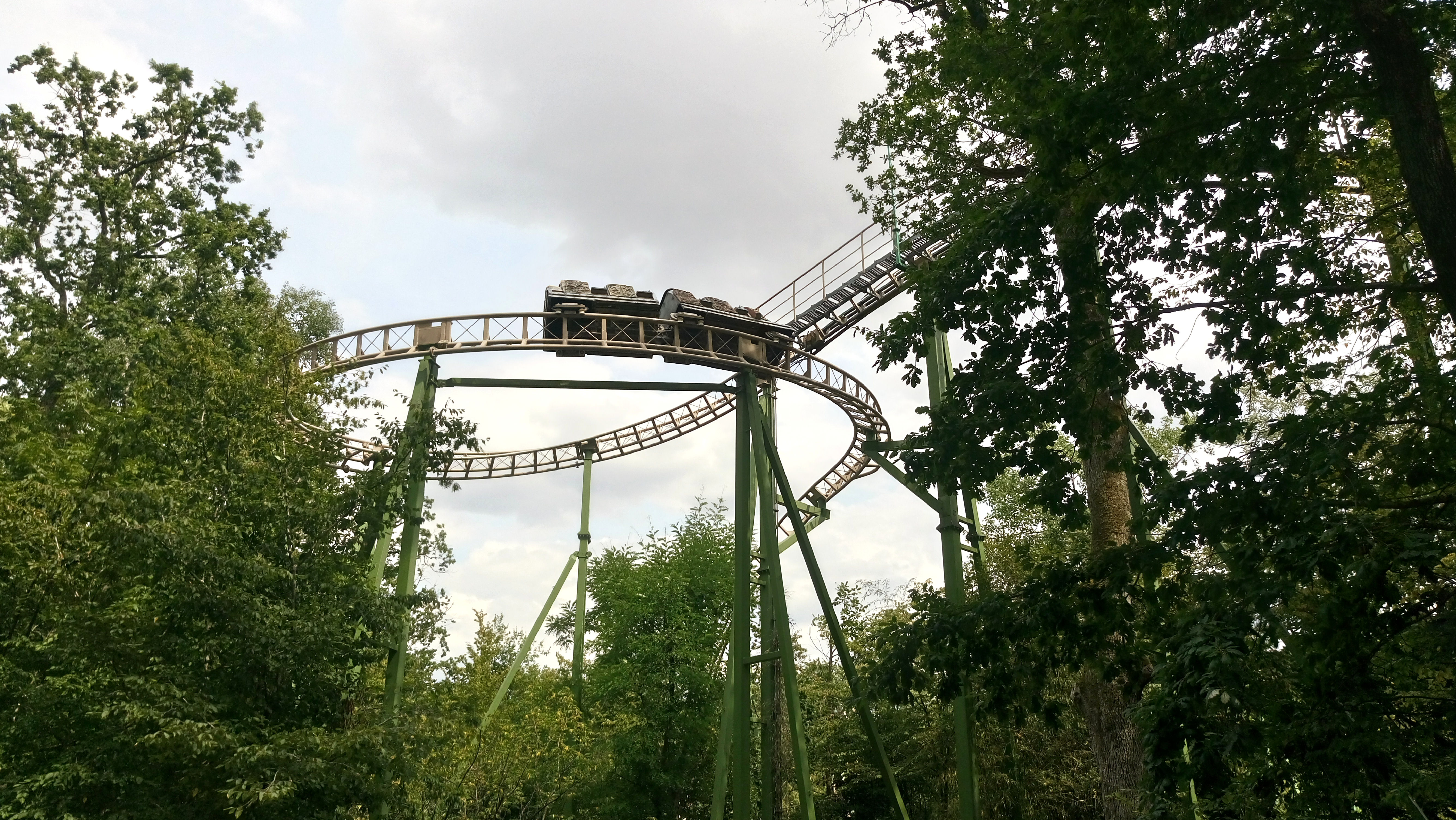 Elsewhere in Europe, French manufacturer Soquet were fleshing out a couple of local establishments like this zoo park that received their next, biggest, though that's not saying much, coaster in 2003. I like Azteka more than I perhaps should, there's just something about it that amuses me, from the unusual (and slightly disturbing) train decoration to the way it rides, with an endearing clunkiness that only certain small companies can get right.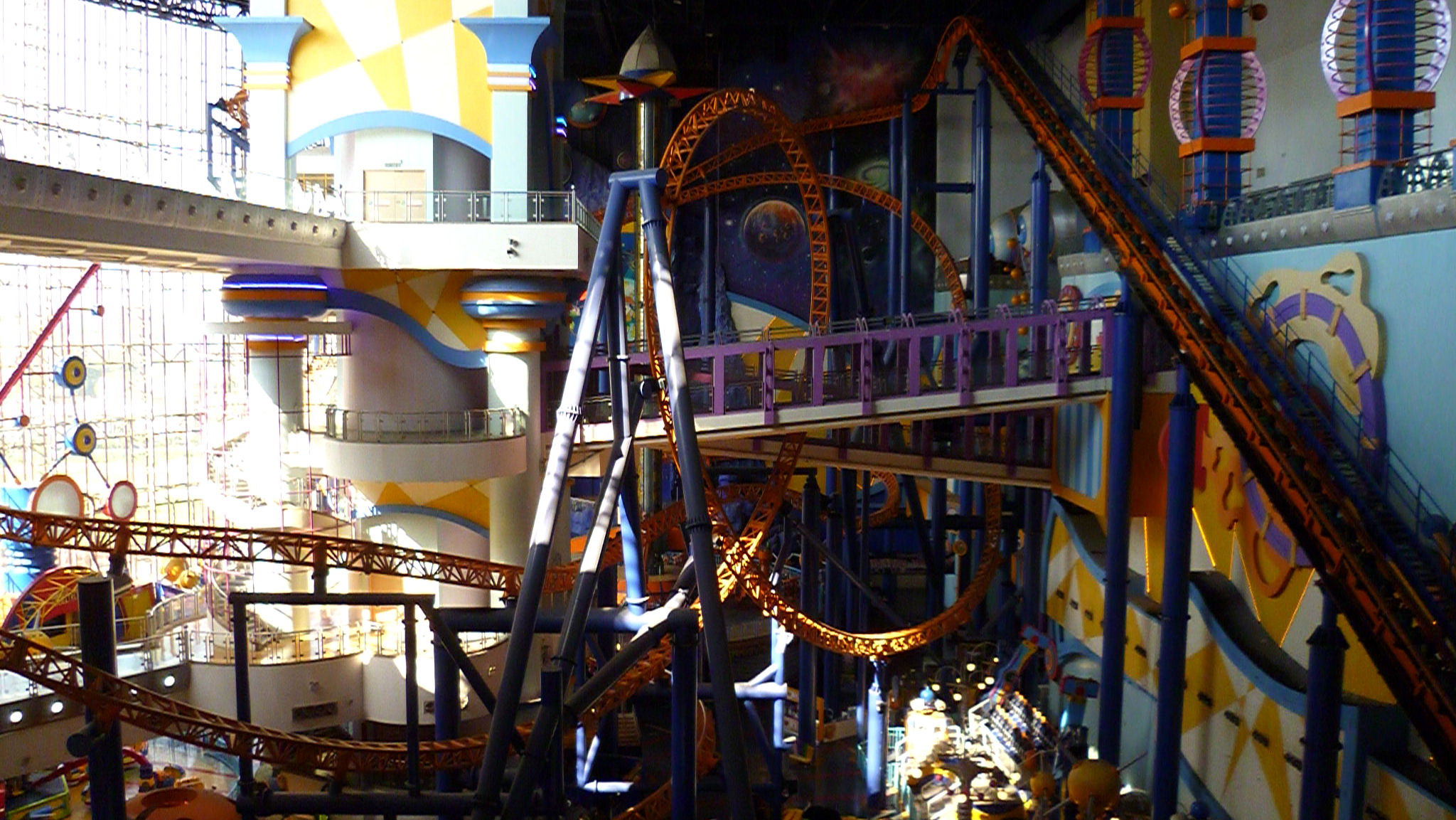 A massive looping Intamin in a mall in Malaysia seems a bit out of place, particularly when you visit these days and find that over half of the floors and premises in said mall are completely deserted and unoccupied. Someone obviously had some cash to splash back in 2003 and this fascinating piece of hardware was the result. It doesn't quite have the elegance of the multi inversion layouts that were being built over the last couple of years (an elegance those have also since lost), particularly with the older, extra clunky trains on this one, but I find myself endlessly admiring the way it integrates into the surroundings.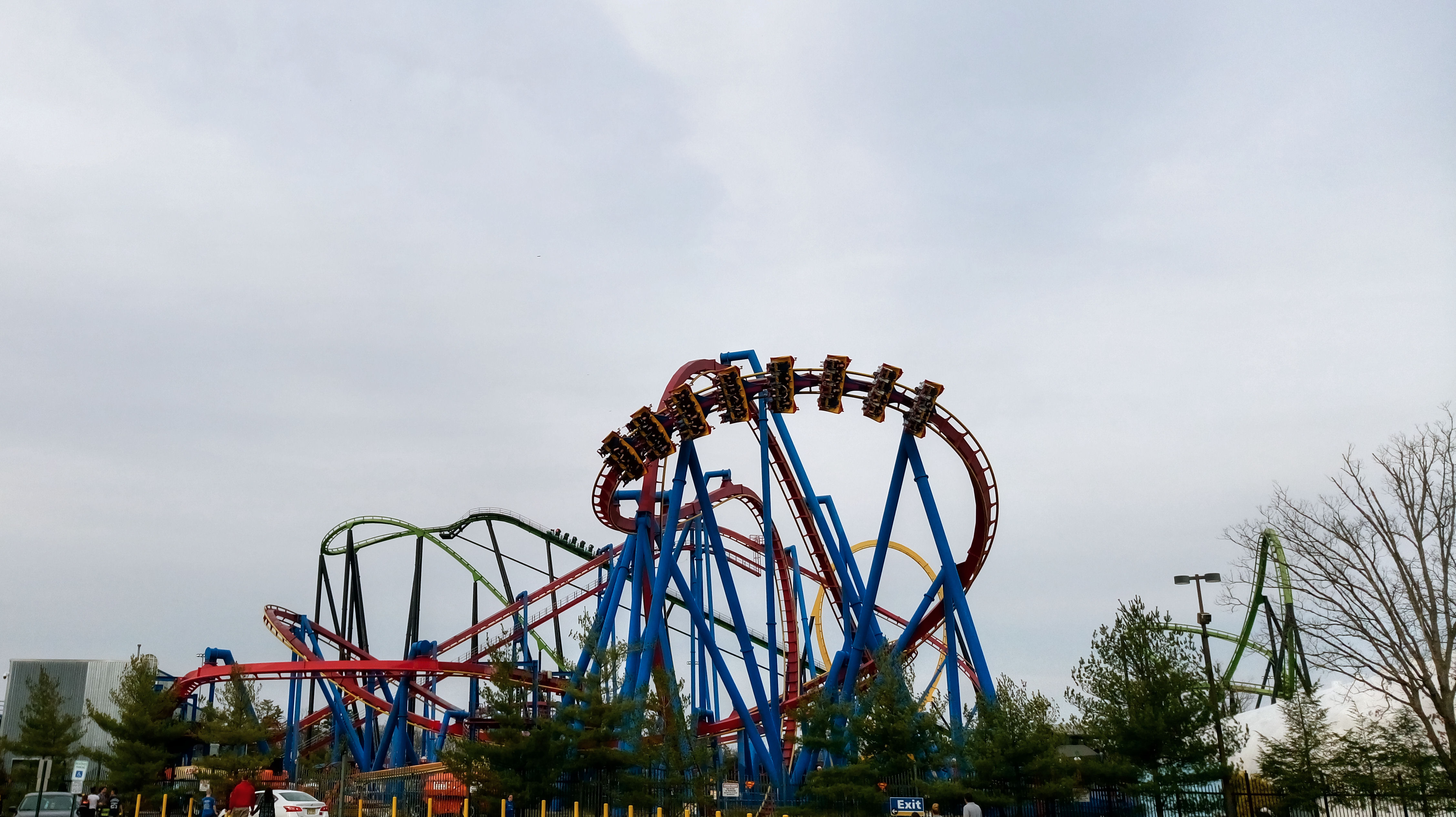 B&M followed up their first year of flying coasters with two more copies of their second design, identically named and themed, in true Six Flags fashion. This layout made a name for itself with the ridiculously intense pretzel loop element, a polarising inversion that has riders diving head first towards the ground before pulling out at high speeds onto their back and up into the air again. It remains one of the most hard hitting parts of any coaster, still to this day. The rest? Still needs work.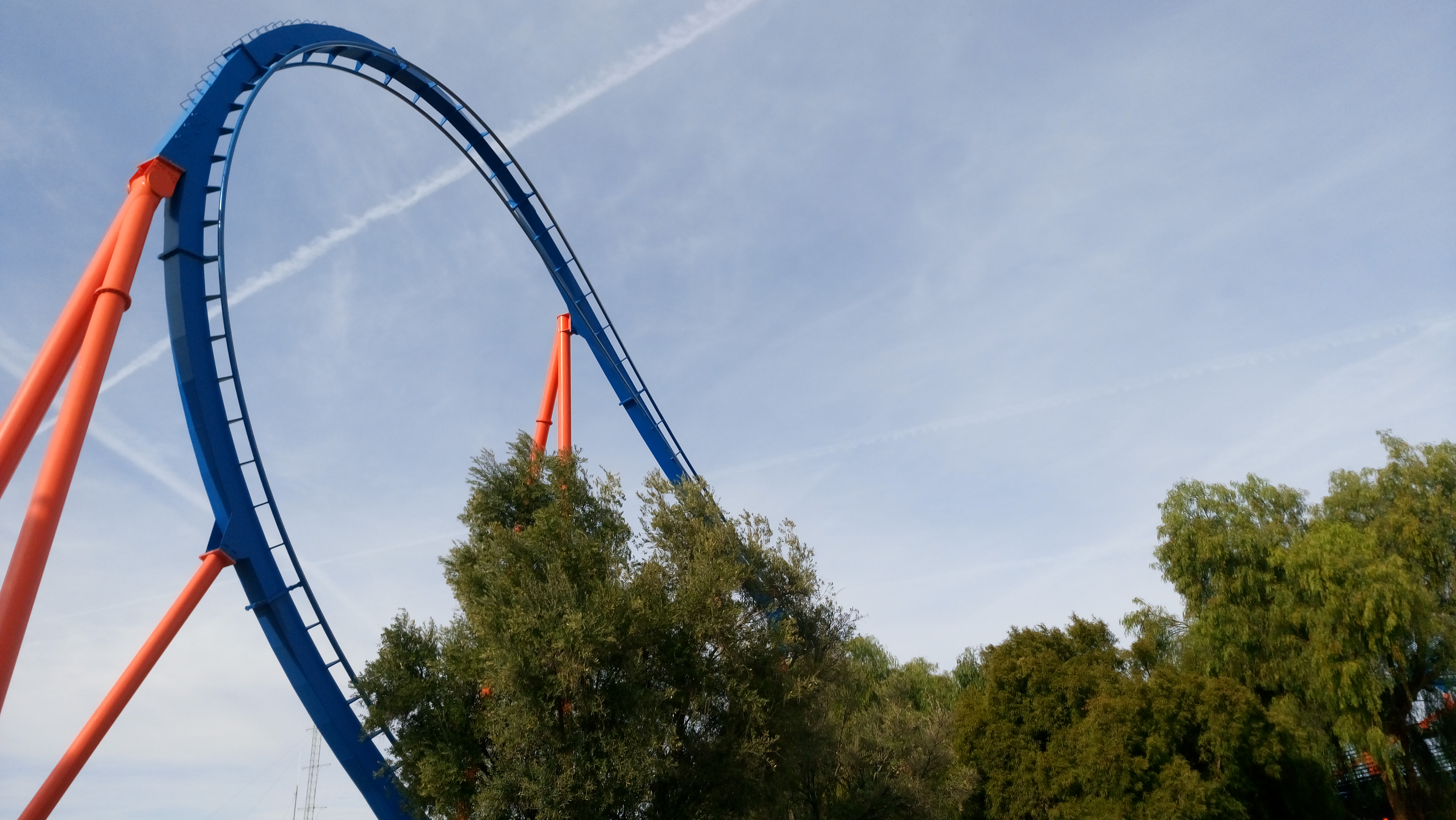 Magic Mountain also received a mirrored clone of another ride in the chain, the first ever B&M floorless Medusa at Six Flags Great Adventure to be precise. As both Superman and Batman were already accounted for elsewhere in the park, Scream! got to start out with it's own identity as an attraction, rather than being assigned a superhero name tag, although it's probably more commonly known as 'the car park coaster' instead now.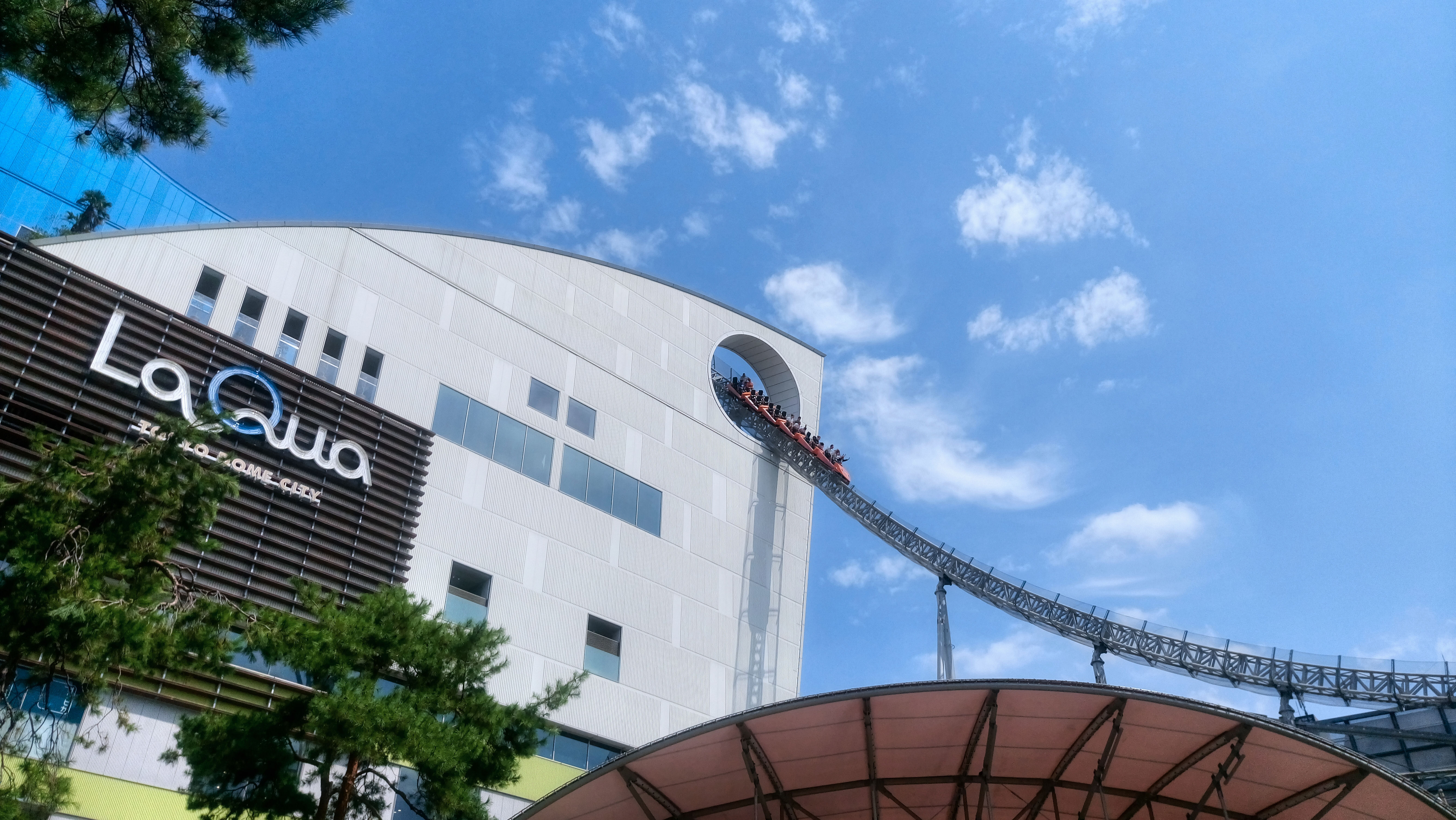 This densely situated amusement park next to the Tokyo Dome has been thrilling riders with crazy coaster concepts since 1968 and Thunder Dolphin was the spiritual successor to a humble Togo jet coaster that used to run the park perimeter. Intamin kicked it up a gear of course, reaching 262ft into the sky, amongst the skyscrapers, and attempted to weave in some of that hyper coaster magic they'd been spreading over the last few years. The layout comes off a little strange with the obvious limitations and it doesn't quite live up to that magic, but it's a ton of fun and a spectacular visual experience nonetheless.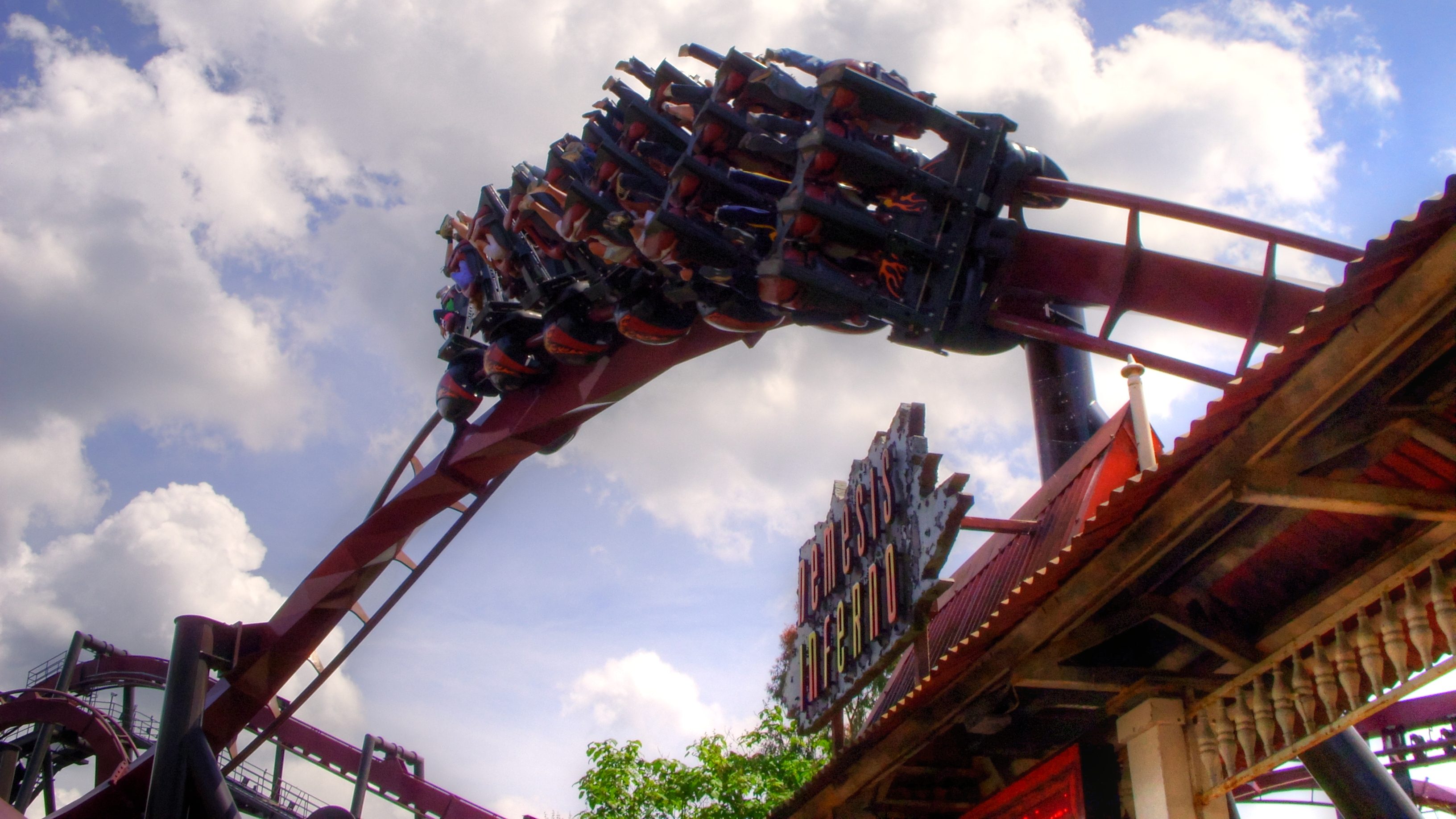 The old faithful inverts are still generally outperforming the other B&M ride types (for now) and the UK's second installation took a bold chance by opting to share the name of a British legend. In the eyes of most fans of the original, the association didn't pay off. It has none of the storytelling grandeur or gamechanging aesthetic of OG Nemesis, but it's a damn good rollercoaster regardless and one that seems to only ever get better with age.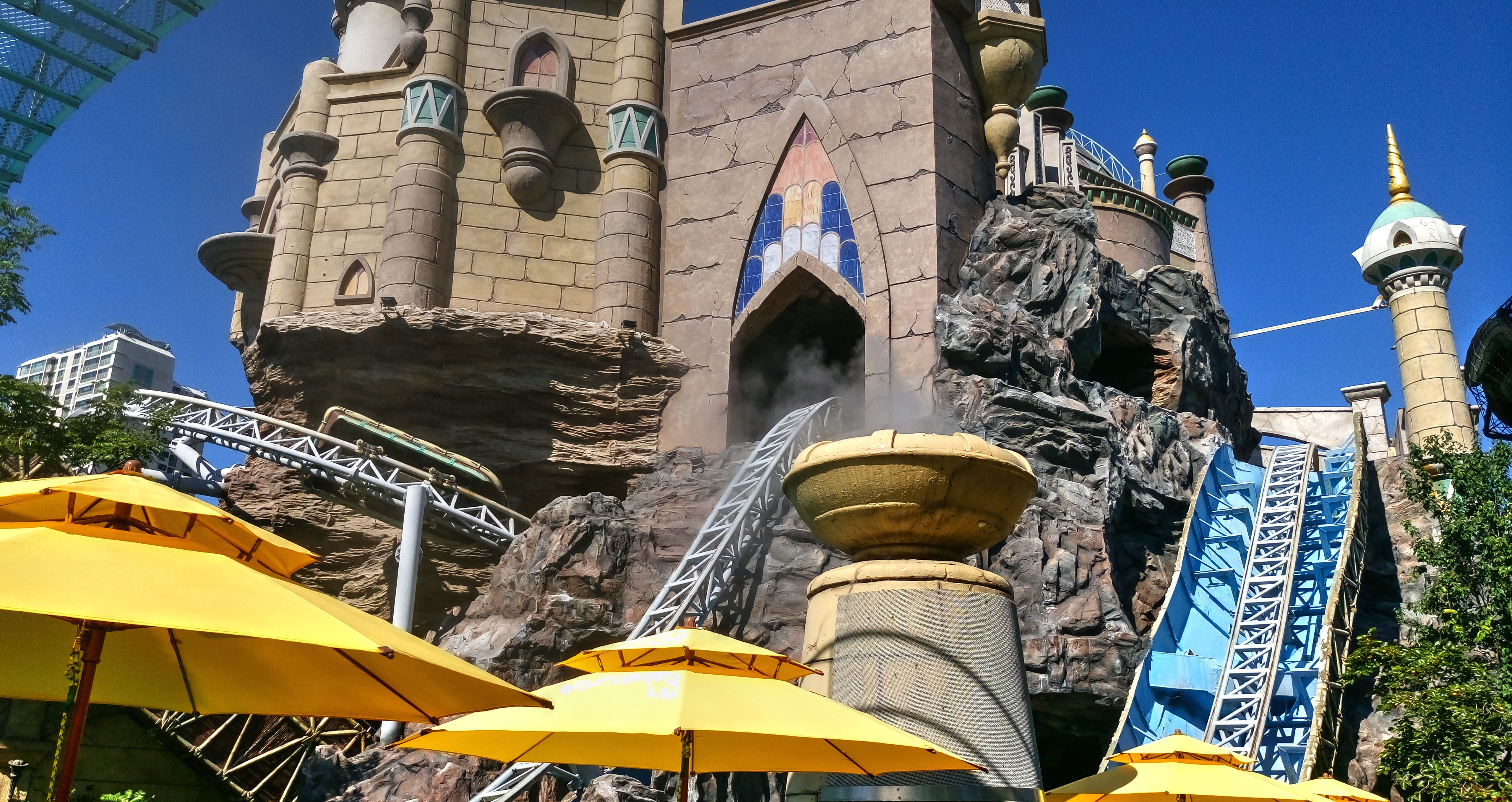 Intamin had the monopoly on Asian capital city projects this year it seems. We've seen Seoul's Lotte World before in this series of course and once again it's thanks to the Swiss manufacturer with that special ability to cram something spectacular into an impossible place. Situated in and around the rockwork beneath the park's signature 'inspired' castle centrepiece, the world's only Aquatrax (a fact that's often lamented) features a powerful launch, an unusual mid course lift hill and a collection of fantastic moments in comfy, open seating. It's supposed to also feature water jets that hit the track, hence the name, though unfortunately I've never seen them in action.
Not the first time Liseberg have topped the list for a year and, spoilers, it certainly won't be the last. Intamin's second pre-fab woodie is much more compact than the original and yet, with brutal efficiency, it manages to pack in far more of that signature ejector airtime. It's a very by the numbers design (other than that extremely wild first drop) of corner, hill, corner, hill that effectively showcases what the manufacturer was doing better than anyone else at this particular time in history and why they're really starting to place so highly here.
---
As with the lack of honourable mentions I'm not finding a huge amount that's potentially missing from this list either, so it's a good thing we've had such solid examples already or I'd be starting to get worried for the future I already know the outcome to.
The obvious headline for the year was Top Thrill Dragster at Cedar Point, the first ever 400ft monster, undoubtely an exhilarating experience, particularly with those lap bars, though it feels like I know exactly what to expect having done most of Intamin's other accelerators of the same ilk.
Perhaps seeing an opening in the market, S&S tried their hand at their first wooden coaster with Timberhawk: Ride of Prey.
In other, slow, wooden news, Nicco Park in India decided that they wanted to replicate the Cyclone from England's Southport Pleasureland by working with the original's owners at the time, Blackpool Pleasure Beach, as consultants, and following in the footsteps of another Indian Park, Esselworld, who had pulled off this process 8 years prior.
It's distressing going through these lists and finding old Pax relics I probably can't ride any more. The silly looking Looping is the only known powered coaster with an inversion and, as we've come to expect from the Russian manufacturer, comes across as entirely mad, in the best way. There is hope for me though, this one's still on the travelling circuit somewhere, waiting for me.

Click here to continue the timeline.