Rollercoaster Ranking – Knott's Berry Farm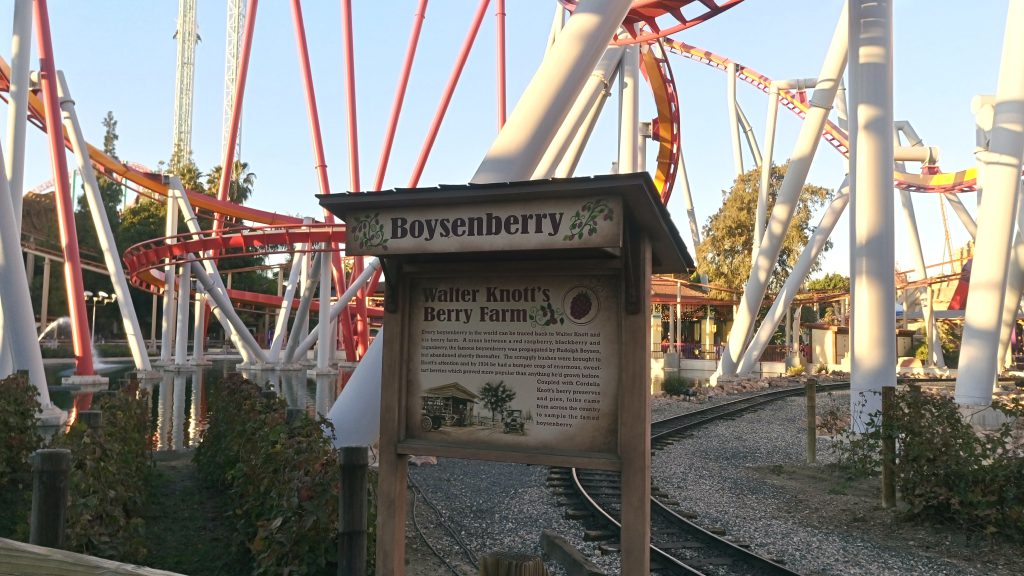 It's a wonderful world we live in when a roadside berry stand can grow into a world famous theme park. From selling jam and chicken dinner to racking up ten rollercoasters alongside an assortment of other classic attractions, Knott's has a fascinating history, perhaps one of the best in the States. I didn't know much about anything prior to visiting, believing it was just a quirky name and had even managed to somehow pronounce it incorrectly throughout my life until I heard it spoken aloud in a piece of queueline audio, but it was obvious on arrival – this place has vintage and charm, about as far removed from 'concrete and rides' in the US as you can get.
What they also have, which suits one of these lists particularly nicely, is no obvious standout rollercoaster from glancing at the lineup alone. Instead they've got a 'big four' going on that complement each other nicely, rather than just the one or two dominating signature attractions and the result is generally a very satisfying and varied line up, something you know I like to acknowledge on here. Let's tuck in.
---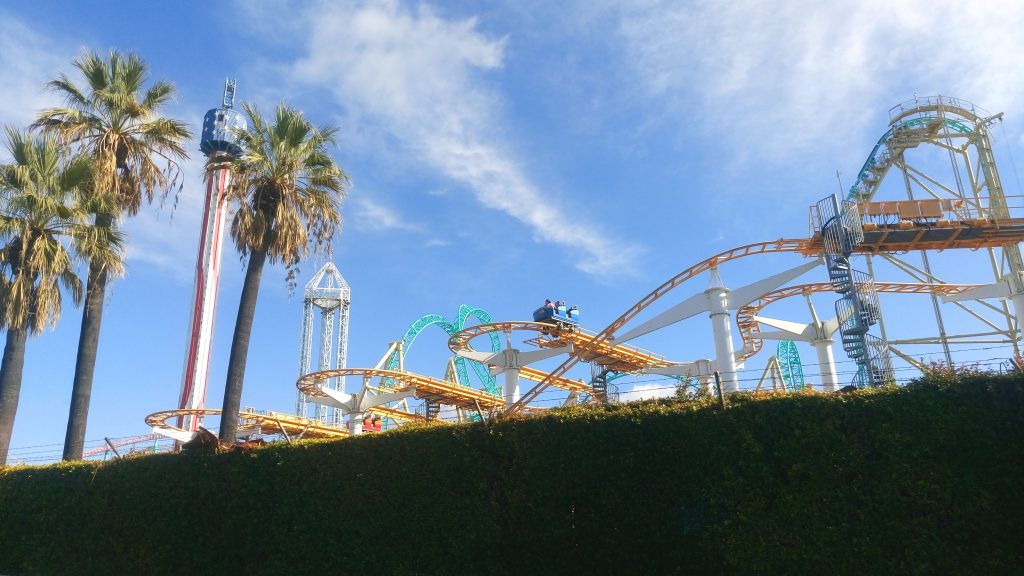 We'll start by getting the dud out of the way. Being a too common, off the shelf, Mack Wild Mouse with a bad pun for a name is the least of CoastRider's crimes. For some reason it has offensively uncomfortable restraints not found on most other models that happen to dig right into the shin bone and ruin any potential funfair fun that could have otherwise been achieved.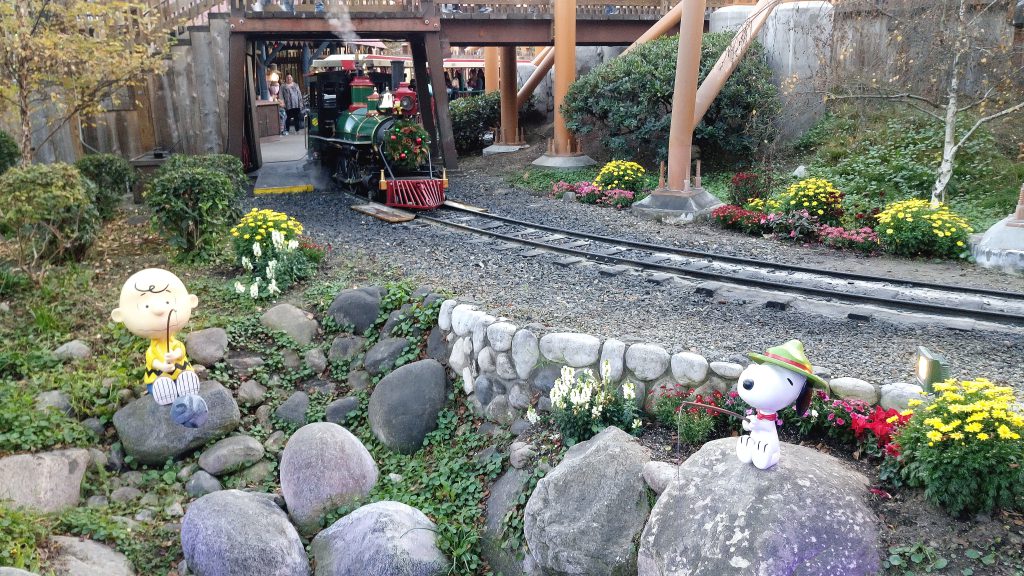 Being an unashamed credit counter, getting on this ride was a satisfying achievement in itself, though I didn't take a photo of it to celebrate the occasion – you can have Snoopy and a train instead. It's a rare childrens' coaster by Bradley & Kaye, who only ever built less than 10 rides in the 1940s and just two remain in operation today, the other at Six Flags Magic Mountain having a strict no adult policy. Over the course of my multi day visit I patiently waited for the right (no queue) moment to give this one a go and subsequently found myself with loads of room in the car, relatively speaking, being taken on a rather wild journey throughout the unnervingly airtime laden 480ft of track.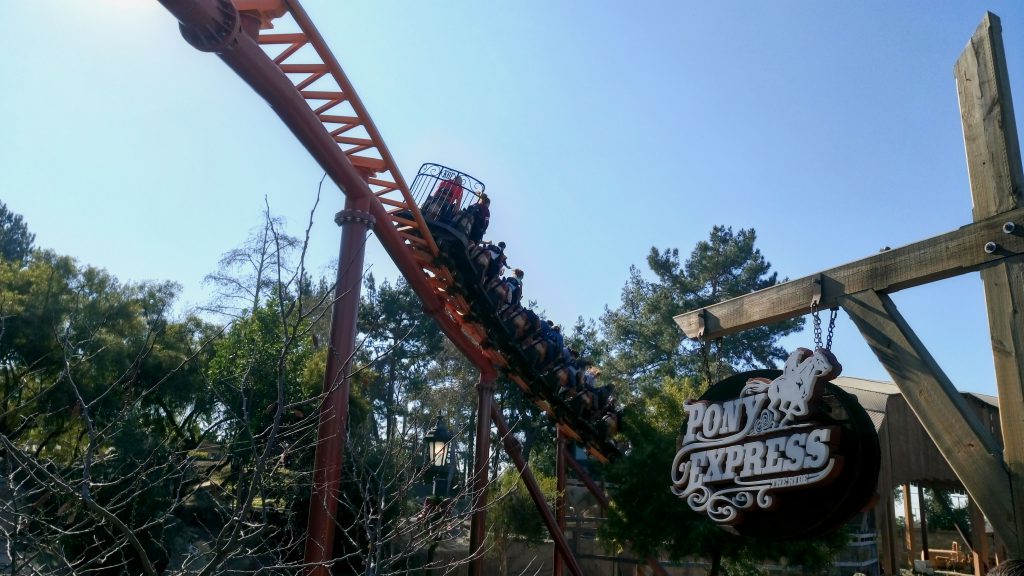 Much like the motorbike cars more commonly found on this type of attraction, I don't find this horseback riding position particularly comfortable on a coaster. It may then count as mercy, but there really isn't much of a layout here to go with it – essentially a figure of eight. I admire the attempt at interaction but sadly the neighbouring rapids ride was undergoing refurbishment during my visit, so no extra points there. Quaint though, and had some great staff.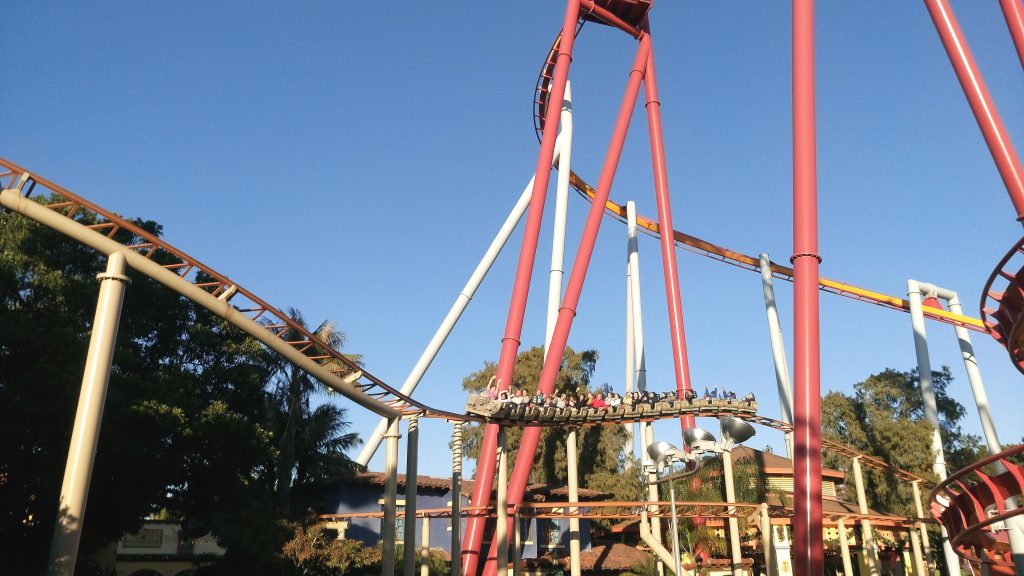 Jaguar is the king of interaction for the park though. This rare, highly customised Zierer Tivoli layout winds its way absolutely everywhere, in and out of other major coasters, over the heads of guests across many pathways and through its own centrepiece of a pyramid themed station building. Though far from thrilling, I always admire this type of attraction integration and there's just so much to look at and appreciate as it traverses the layout.
The oldest Schwarzkopf Shuttle Loop still in its original location and my favourite to date for the simple elegance of the launch sequence. I only rode this one in the dark, where two satisfying sequential clunks turned all the station lights out and then accelerated the train off into the night. I've said it before and I'll say it again though, you can only go so far with an oversimplified layout.
This Mack Spinner had the disadvantage of me having already ridden and loved the far more intensely themed indoor edition of the same layout in the UAE. The ride type itself is rather hit and miss as to whether you get a decent spin in the right places and therefore the experience can vary hugely from a tame little family ride to a surprisingly intense thrill coaster. My laps on this one leaned towards the former, but the potential is there. I'll soon have another version much closer to home to try my luck with again.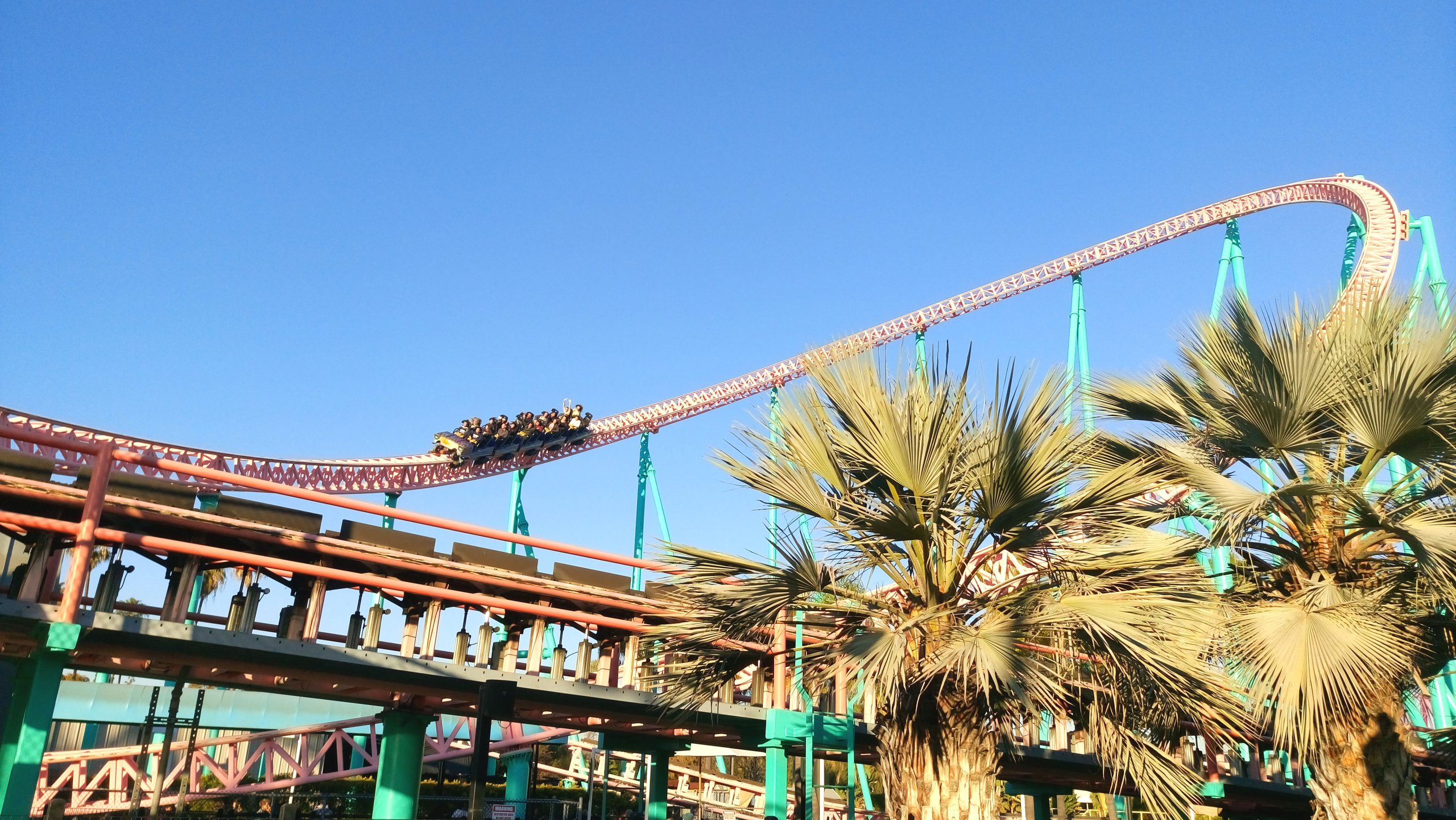 #4 Xcelerator
And so begins the big four I alluded to above. Sometimes Intamin launch coasters are an invention of wonder and at other times the entire experience hinges on just the acceleration itself. Sadly for me this one falls firmly into the second category, with very little going on outside of some big overbanked turns after the signature top hat also found on lesser layouts. I've often said that launches alone don't do much for me any more and this ride is a prime example of that.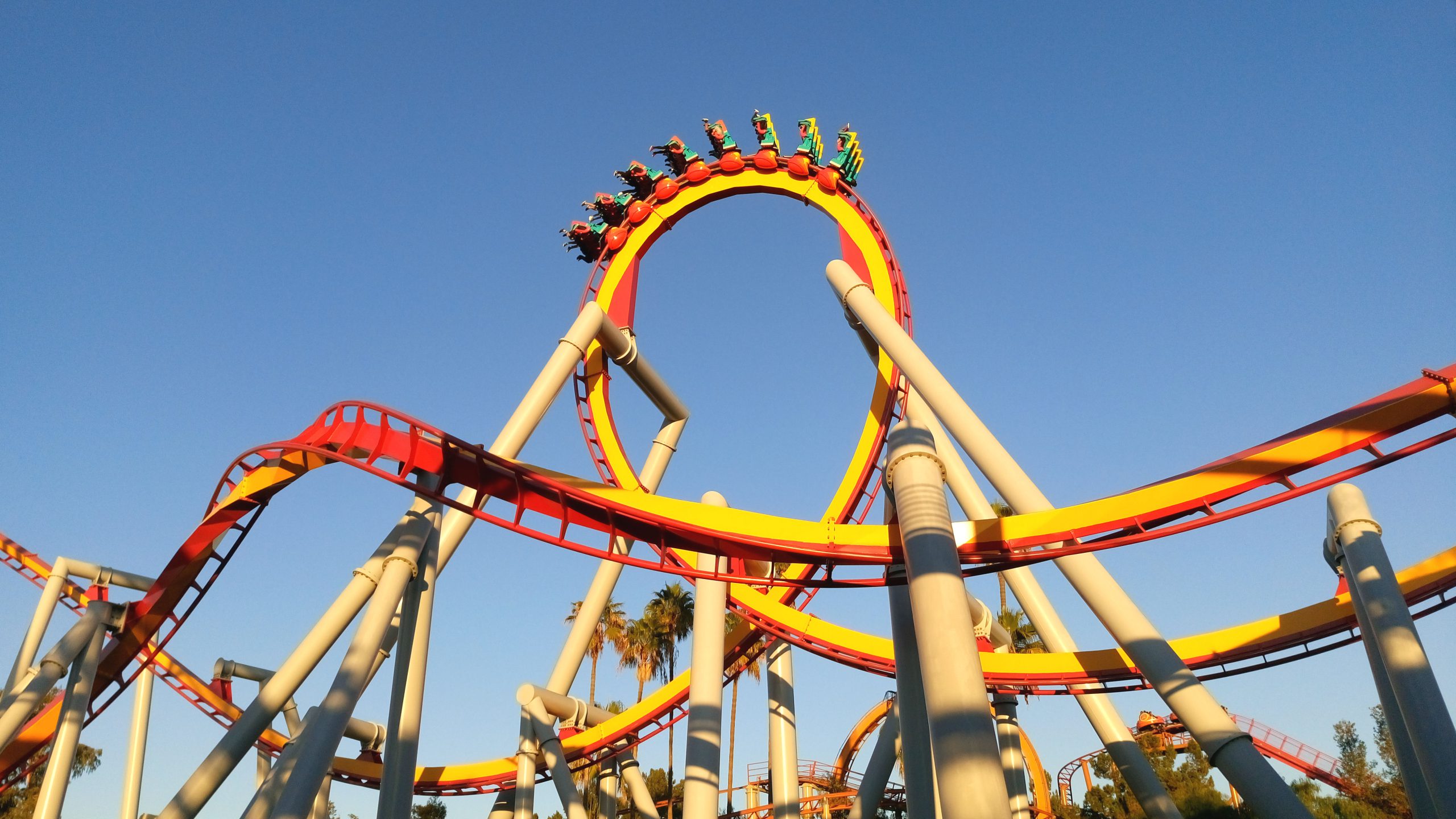 #3 Silver Bullet
It may be one of the weakest of its type but can we appreciate for a moment how attractive this ride looks. I really wanted to like Silver Bullet, as I do with all B&M Inverts and it even contains some cool and underutilised elements not found on others of the same model to help it stand out from the crowd. Unfortunately it seems to me that the elevated positioning over the walkways led to a rather lacklustre first drop design and the momentum just never really gets going throughout the rest of the layout. It lacks the power and intensity that has become strongly associated with this hardware and though it's no doubt fun and highly rerideable, I just can't see past that.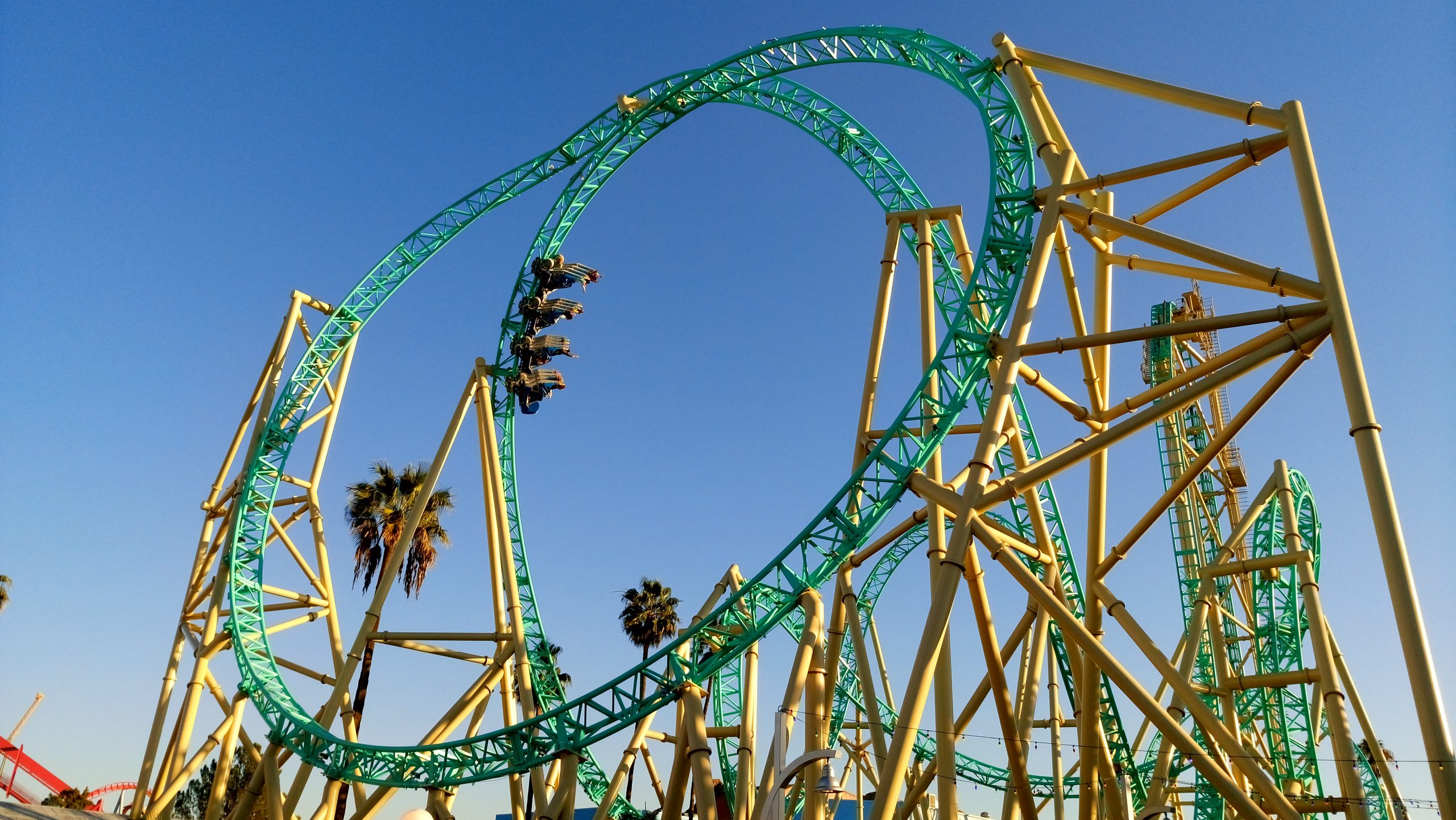 #2 HangTime
I've praised my 700th coaster on here a couple of times already and I think I'm managing to fall for it more and more as time goes on. Yet again HangTime looks fantastic but the onboard experience manages to match it this time. That holding brake moment is like nothing else out there and it's all thanks to the restraints. So many rides around the world could be made better with simple physical details like that and this one stands as a shining example to all.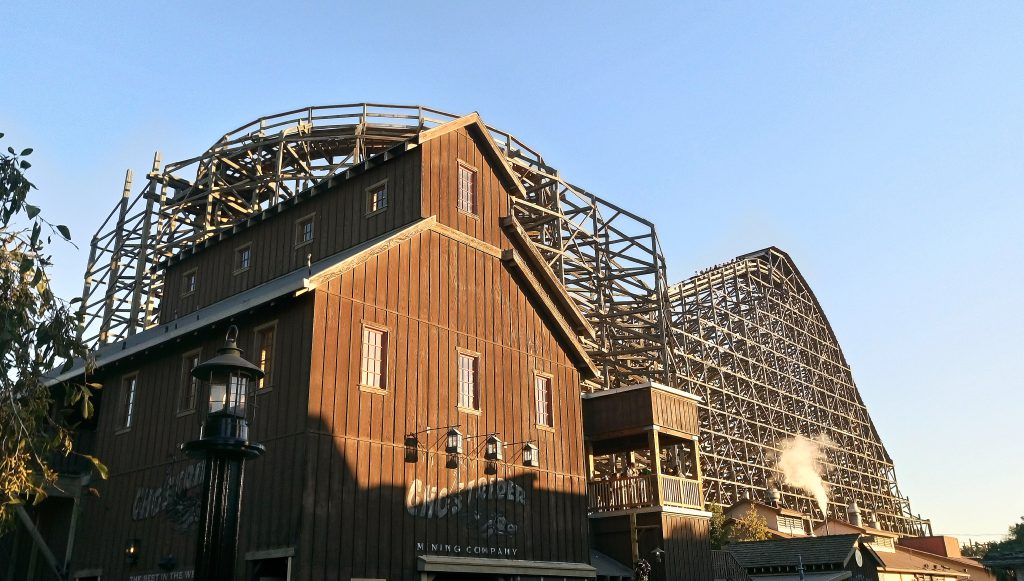 For all the things I didn't know about Knott's Berry Farm before I arrived, this attraction turned into the biggest shock of all. I'd seen the odd account here and there that it was big, rough and a bit past it, then of course heard the news that they closed it for a bit of TLC back in 2015 & 2016. I remained largely sceptical, with the usual fear of bad woodies killing me in the back of my mind.
The sight of new GCI trains for the first time as I walked through the queue was news to me however, as was the layout, which was riding particularly well (on the right side of violent) and contained a huge amount of variety – everything that was right up my street for a wooden coaster. GhostRider was hugely popular at all times of the day and night whenever I visited and understandably so. I only wish I could have become more acquainted with this beast. It's a winner.